a little bit about me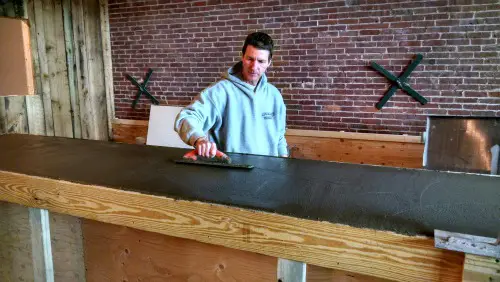 That's me Mike Day, finishing a concrete countertop.

Where I started: My email is at bottom of page

It was the summer of 1981, I just completed my sophomore year in high school when I started pouring concrete floors for a local concrete flatwork company in town.
While working for this company, I installed concrete floors for large commercial buildings, schools, malls, hospitals as well as residential homes and garages.
Since a lot of the concrete floors we installed were very large, I learned very quickly how to set up forms, pour concrete slabs, walks, and floors, and how to finish concrete by hand and with a power trowel.
Starting my own business:

I had a tremendous amount of "hands on" experience pouring and finishing concrete floors while working for someone else.
With all the knowledge I had gained about concrete, I decided to start my own concrete flooring business in 1985.
I was 20 years old and very motivated to be my own boss.
A little more about me and what I do
What I know:

Concrete, like most everything, has really evolved over the years.
Not wanting to fall behind or lose my competitive edge, I have taught myself, learned from others, or have been professionally trained in many types of concrete applications.
FLATWORK:

Concrete floors (new pouring & finishing techniques)
Concrete slabs
Pool decks
Patios and sidewalks
Driveways
DECORATIVE:
Stamped concrete
Staining concrete (acid stains, dyes and water stains)
Concrete countertops
OVERLAYS:
Stampable overlays
Self leveling overlays
Microtoppings and skim coats
Sprayable & knockdown finishes
COATINGS:
Epoxy floors

Polyaspartic floors

Seamless floors

Decorative chips, quartz, silica sand and mica floors

Water mitigation and vapor barriers
 REPAIR:
Resurfacing old, worn and pitted concrete

Fixing cracks in floors, patios and driveways

Repairing scaling & pop-outs


Fixing freeze & thaw damage to concrete
As you can see, I have been busy learning and applying these techniques and continue to do so today for my business in Maine called Day's Concrete Floors, Inc.

That's us above pumping, pouring and troweling a big slab.

How I can help you:

For personal training, learning how to with concrete, check out The Concrete Underground. That's my private training academy where I teach others how to work with concrete.
There's many different training videos about pouring, finishing, stamping, repairing, and much more in there. Plus you get to ask me questions in the forum for more in depth help and guidance.
It's taken me a lot of time (years) and effort to learn all those different applications I mentioned above.
Most of the learning was "on the job training" (sometimes the best kind) and some was from going to seminars and classes.
The "on the job" knowledge is where I really learned what works best and what doesn't work so well.
This knowledge is how I know I can help you the most!
With over 40 years of pouring concrete, stamping, staining, forming slabs, repairing concrete, applying concrete sealers and learning from my own mistakes.
I can share that information with you through this website.
Go ahead and read the pages that interest you.
Use the search bar at the top of the right hand column to find what you're looking for.
Or ask me a question!
No sense of keeping all this experience and information to myself, enjoy!
Here we are pouring a basement floor and a concrete driveway.

P.S.
A little more about me:

My beautiful wife, Karen, and I have been married since 1992.
We have two great kids, Tia, our daughter and Tyler, our son.
We live in a small town in central Maine near the capitol city of Augusta.
When I'm not working in concrete I enjoy spending time with the family, playing sports, building this website, and coaching my kids sports teams.
Living and working in Maine is really quite nice!
Thanks for visiting my site and come back soon.

here's how to contact me
Hi there, I do get swamped with emails asking for help, If you'd like to get moved to the front of the line please consider a donation. It would be greatly appreciated and help me keep providing a lot of free information via this website.
You can CONTACT ME here
I look at my email at least twice a week so I'll respond as soon as possible.
Sincerely,
Mike