concrete courses
education and training
that teach you how to work with concrete
These are my concrete training courses that teach you how to work with concrete.
If you want to learn about concrete, I have individual concrete training courses that teach you:
Are you looking for concrete training classes near me?
You don't have to travel for concrete training classes when you can learn right from your computer.
I've made these concrete training videos so you can learn how to work with concrete wherever you are in the world.
My name is Mike Day, I own Day's Concrete Floors, Inc.
I've been in business for myself for almost 40 years, pouring, finishing, stamping, and repairing all kinds of concrete projects.
If you're a beginner, a diy'r, or you're already in the concrete business and want to improve you skills, my online training courses are here to help you learn, understand, and teach you the skills necessary to work with concrete.
Online concrete training at your convenience 
My video training courses can be watched at your leisure.
Anytime and anywhere you want (as long as you have wifi).
You don't have to give up a weekend, pay for a hotel, drive (or worse fly) to another state.
I've personally invested 1000's of dollars in concrete training for myself over the years. Most all the training classes were out of state and involved an overnight stay.
I easily spent over 1000 dollars between travel, food, and the course fee each time I went to one of these classes.
You no longer have to do what I did to learn how to work with concrete. I've made these courses so you can learn right from your own home.
And..... save yourself a lot of time and money while you're learning real skills, real information, and real world experience from a REAL pro.
What are the concrete courses about?
---
How to install a concrete slab course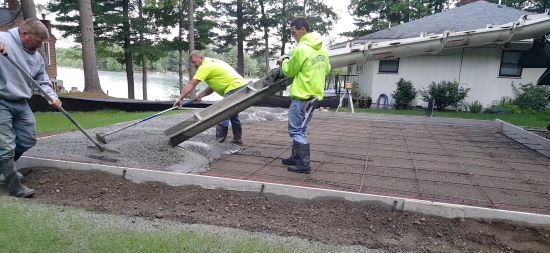 COURSE: How to form, pour, and finish concrete slabs.
This course teaches you:
My 6 steps for forming a concrete slab (includes using a laser level to set your grades)
How to calculate how much concrete you need
How to pour the concrete for your slab (includes spreading, leveling, screeding, and bull floating the concrete)
How to power trowel finish the concrete
The course also shows you and teaches you:
How to install a 24 ft X 20 ft garage slab
How to install a 28 ft X 20 ft concrete slab
How to install a 12 ft X 16 ft shed slab
The basics of forming a 6 in concrete slab
How to power trowel a concrete floor
How to use a vibrating power screed
This course is me teaching you how we work with concrete.
I'm sharing with you all my knowledge, my skills, my tips, and some secrets to help you succeed and improve your skills.
You can get the Concrete Slab Course here.
---
How to stamp concrete course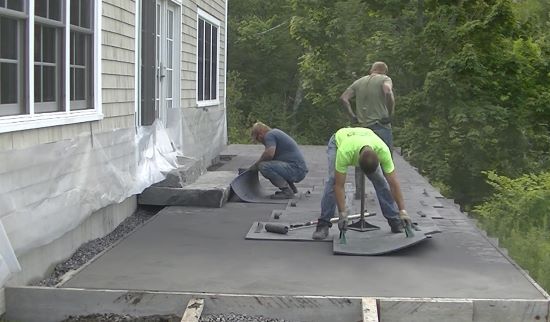 If you want to learn how to stamp concrete, this is the most thorough online training course about stamped concrete on the internet.
I make my living installing stamped concrete. I've broken down this course into easy to follow steps that teach you all you need to know about learning how to do stamped concrete.
WHAT THIS TRAINING COURSE INCLUDES:
Where to buy your integral color and release powder
Where to buy your concrete stamps and touch-up tools.
How to add integral color to the concrete mix.
How to pour colored concrete
What to do to the concrete just before you start stamping. (very important)
The stamping process - How to stamp concrete
How to saw cut your expansion joints
How to clean the concrete before sealing
How and what to use to seal the concrete
I also teach you:
How to stamp a barn board pattern
How to stamp an ashlar slate pattern
My recommended sealer for stamped concrete
How to maintain stamped concrete
How to clean and re-seal concrete when it's a few years old or older.
I also show you examples of us stamping:
A large barn board stamped concrete floor
A 400 sq ft stamped concrete patio and walkway
A 16' x 12' stamped concrete patio slab
I've created the course with multiple videos that show you all the information listed above in an easy to follow format.
It took me years to learn and acquire all the skills necessary to be really good at stamping concrete.
I want to shorten that learning curve for you, that's why I created this course. You get to learn from a REAL pro on REAL jobs.
You can use this online training to teach yourself or teach your crew. Minimize downtime and minimize mistakes.
Get the stamped concrete course here.
---
Concrete wall crack repair course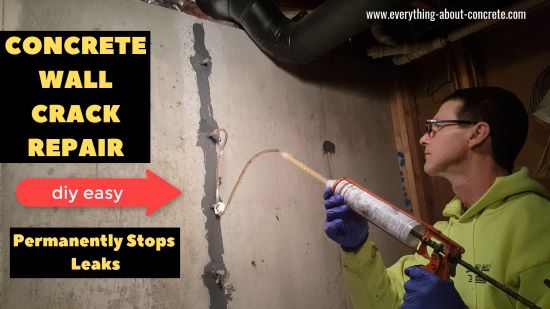 If you want to learn how to repair a crack in your basement foundation walls to stop the crack from leaking, this course will teach you how to do that.
WHAT YOU'LL LEARN FROM THIS COURSE:
What repair product you need to fix the crack
How to prepare the crack for injection
How to install the injection ports
How to seal up the crack before injecting
Proper set-up of the injection tube and hose
Where to start injecting the crack first
The complete injection process from start to finish
How to know if you're doing it right
What to expect when the repair material is dry.
How to remove the injection ports when finished
How to smooth and clean the surface when done.
Crack injection and stopping leaks in basement concrete walls is another big part of my business.
The repair kit we use to fix these cracks is easy to use. 
My course teaches you how to set-up the repair kit and walks you through, step by step, how to fix a leaking crack.
We've fixed 100's of leaking basement cracks and have the process down to a science.
My course will answer all your questions, show you our technique, and save you a lot of money by not having to hire someone to do it for you.
If you're a contractor looking to add another revenue source to your business, this course will teach you how to repair these cracks so you can start charging your customers for this work.
If you're looking to start your own business, this course will teach you the skill of repairing leaking foundation cracks. 
Get the DIY Foundation Crack Repair Course here.
Here's an introduction of what you'll learn from the crack repair course

.
---
How to apply your own garage epoxy floor coating course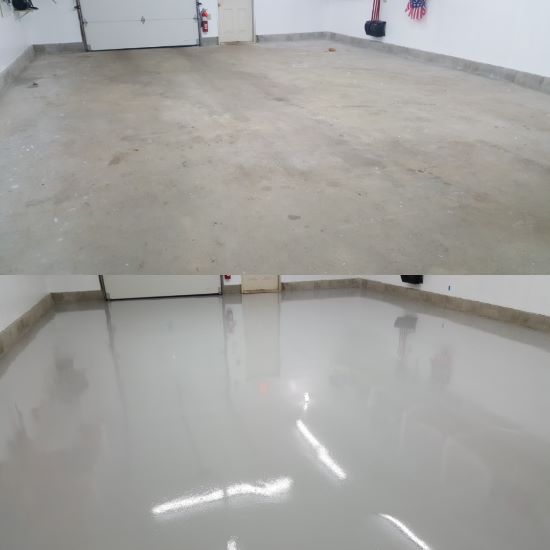 Before and After shot of floor
This course teaches you how to successfully install an epoxy coating to a garage floor, basement floor, or most any kind of concrete floor.
You'll learn all the steps needed to make sure your epoxy coating is done correctly.
I install a lot of epoxy garage floor coatings for my customers and this course is a video, step by step, process of how I do it.
Included in this online training course is:
Floor preparation - How to do it so your coating adheres to the concrete.
How to repair cracks, chips, and spalling
The best way to clean the concrete before coating it.
What kind of epoxy to use and where to get it.
The tools and supplies you'll need
How to mix and apply the primer coating
How to mix and apply the colored epoxy coating.
How to apply the protective top coating.
This is an easy to follow training course that will help homeowners and diy'rs install their own epoxy floor coating.
The course is also for contractors who want to learn how to do epoxy coatings or install a floor coating to their project.
Get the Garage Epoxy Floor Coating Course here.
Watch us install this garage floor epoxy coating.
This is what you'll learn in the course.
30 day money back guarantee
These concrete training courses are real "on the job" experience's I've made into video training courses.
You learn how and what it's really like to do each of these applications in a real job like setting.
Not in a controlled classroom setting where conditions are perfect and no problems ever exist. (not realistic)
I have a 30 day money back guarantee policy on all these courses. If you're not completely satisfied, just let me know before 30 days and I'll refund all your money.
Learn more advanced concrete skills & techniques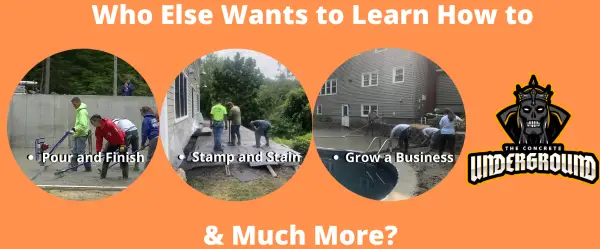 The Concrete Underground is where I teach all my more advanced concrete pouring, forming, and finishing techniques. 
I have multiple training tutorials about pouring and finishing concrete floors, slabs, walks, patios and pool decks.
There's tutorials about estimating & pricing concrete jobs as well as help from me about starting your own business.
If you're looking to get into the concrete business and want my help with various aspects of learning how to do it right, this is the place you want to be.
---
---
If you liked this, please share.  Thanks!