PUMPING CONCRETE:
ALL ABOUT CONCRETE PUMPING AND CONCRETE PUMPS
Pumping concrete using concrete line pumps and concrete boom pumps can make your concrete placement much easier and faster. After all, the concrete pump truck does most of the work of getting the concrete where you need it.
In the video above we used a pump truck to help pour a colored basement concrete floor. Without the pump truck, there would have been no real practical way to pour this floor.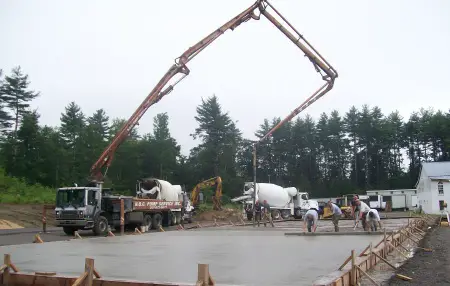 schwing concrete pump truck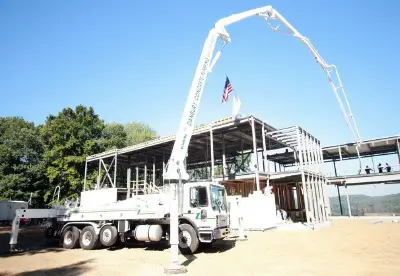 Truck mounted concrete pump truck


Most concrete pump jobs are either very large concrete placements or difficult to reach areas like a second floor or a basement with limited access. The ease and speed of using trailer concrete pumps or a truck mounted concrete pump to place the concrete will save you manpower and time, saving you money.
WHAT ARE THE DIFFERENT TYPES OF CONCRETE PUMPS?
Concrete Line Pumps - Small and versatile, trailer mounted concrete pump.
Truck Mounted Concrete Boom Pump - Medium to Very large concrete pump with boom that can reach over 200 feet.
Benefits of using a concrete pump
Concrete is poured faster and more efficiently
Long pipes can navigate through almost any obstacles or places where there are access issues
Saves a lot of time and manpower
Cleaner / less messy than using a wheelbarrow  
how far can a concrete pump hose reach? (0n average)

Ground Line Pump: almost 500 ft
Boom Pump: around 235 ft
Is pumping concrete more expensive?
The upfront cost of using a pump truck is obviously more expensive than not using one, however it does save you money in labor. This is because the pour will be done faster and more efficiently and not make you and your crew use as much energy. 
Here is another video of us line pumping concrete to pour a basement floor
QUESTIONS ABOUT CONCRETE PUMPING:
HOW DOES A CONCRETE PUMP TRUCK WORK?
WHAT MAKES A GOOD CONCRETE PUMP OPERATOR?
WHAT TO KNOW BEFORE BUYING A USED CONCRETE PUMP TRUCK?
WHAT IS THE AMERICAN CONCRETE PUMPING ASSOCIATION?
CONCRETE PUMP SUPPLIERS, PARTS & ACCESSORIES
WHO IS THE BEST CONCRETE PUMP MANUFACTURER?
IS CONCRETE PUMP RENTAL YOUR BEST CHOICE? 
We use concrete pumps, both line pumps and boom pumps, very regularly for our concrete floors. Pumping the concrete is so much easier than pulling the concrete from a chute, wheelbarrow, concrete buggy or skid-steer. If you've never used a concrete pumping truck to place concrete, try it, you may like it. 
---
Return from Pumping Concrete to Everything About Concrete Home Page