CONCRETE STEPS &
CONCRETE STAIRS
November 3, 2023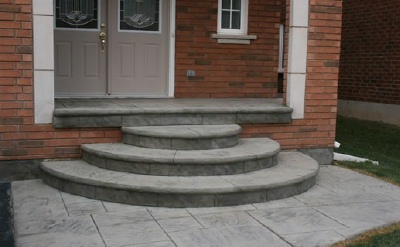 Concrete Steps or Concrete stairs are usually the focal point of most entryways to homes and businesses.
Concrete stairs can be shaped, colored, and textured to fit the design of any entryway. You can color and stamp a concrete stairway to look like stone, brick, wood, or many other designs. Concrete steps with an exposed aggregate finish are a popular choice because of their attractive look and non-slip surface.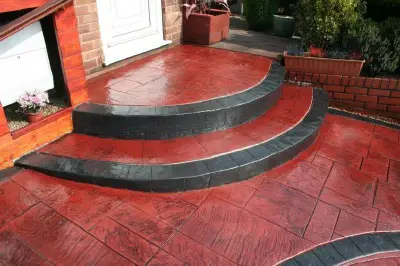 If you are having a concrete walkway installed, the concrete stairs can be poured at the same time to match the walkway design, texture, and color.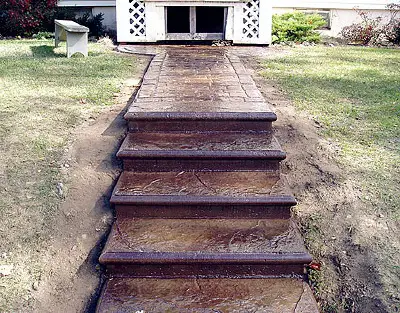 The versatility and durability of concrete along with the very low maintenance required, make the choice of having concrete stairs over wood stairs an easy one. Concrete stairs will not warp, fade, splinter or rot. To keep a concrete stairway looking like new all you have to do is pressure wash and re-seal them.
The mix design for exterior concrete stairs should be at least a 4000 psi mix with a low water/cement ratio. In colder climates specify air-entrainment in the concrete to help resist freezing, thawing, and deicing chemicals.
In most cases, buying the concrete from a redi-mix concrete company and having it delivered in a concrete truck will be the easiest, fastest, and least expensive way to go.
When planning the look of your concrete stairs or steps the most important dimensions are the riser height and tread depth. Risers should be 4 to 7 inches in height and tread depth from 18 to 11 inches.
Although the ratio can vary depending on the application, local building codes should dictate the maximum riser height and minimum tread depth.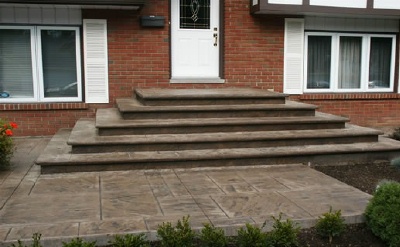 Some other concrete stairway design options:
For proper drainage, slope the steps forward 1/4 inch per foot.
The top landing for concrete stairs leading to entrances should be no more than 7 1/2 inches below the door threshold.
Using landings to break up cement steps that are 5 feet or higher is a good idea. The landings should be a minimum of 3 feet wide.
Having a deeper tread with a shorter rise will allow for a more natural stride. Whether you choose to have decorative concrete stairs or plain gray cement steps, you've made a great choice. In my opinion, using concrete is always a great choice.
For more information about steps and stairs made with concrete:
Click on CONCRETE PORCH STEPS to see some more great ideas.
Click on PREFAB CONCRETE_STEPS to learn about the advantages of prefab concrete stairs.
To learn how to build your own concrete steps click on BUILDING CONCRETE_STEPS.
Click on PRECAST CONCRETE STEPS to learn more about these beautiful steps.


---
Return from Concrete Steps to Everything About Concrete Home Page