Concrete Patio Designs
That Make You Say Wow

When I get asked about concrete patio designs by a homeowner or a customer they usually ask me what looks best or what do you think I should do?
Both, very good questions!
But difficult for me to answer because what looks good to me may not look good to you.
Even though I've installed 100's of concrete patios and many of them with stone, slate, cobble or tile patterns, it's hard for me to know which design will give you that "wow" factor.

What kind of patio designs are there?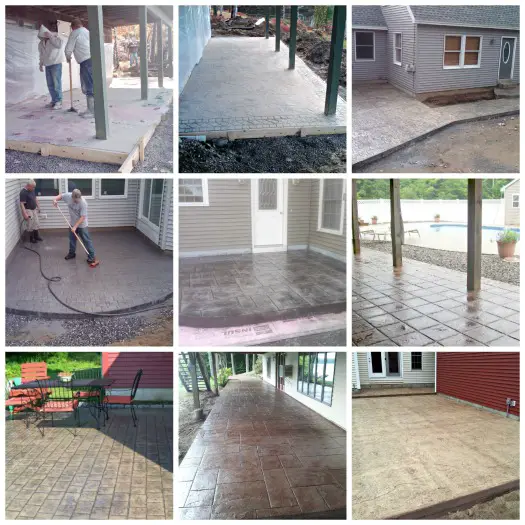 Above, you'll see some pretty simple designs for concrete patios we've done over the years.
All of these are stamped concrete patios with designs that include ashlar slate, stone texture, cobblestone and tile.
The most popular patio design we install is ashlar slate. It goes well with most landscapes and looks really good in a variety of colors.
You can check out some more stamping patterns here.
How decorative can a patio be?
A concrete patio can be as decorative as your imagination allows you to be!

This one has multiple curves, a stone pattern, a border design and two sets of concrete steps.  Wow!

| | |
| --- | --- |
| This front patio has a tile pattern with a circular brick design installed using a concrete stencil. Then the concrete was colored with a concrete stain. Like I said, the possibilities are endless when you use concrete! | |
Create your own concrete ornaments - Simple projects for beginners!
Is concrete the best patio material to use?

In my honest opinion, Yes!
Not just because I'm in the concrete business.
But because half of the people that call me to install a concrete patio already have one made of:
Wood - usually rotted out or splintered & faded color

Pavers - always seem to move and need re-adjusting
Stone - hard to keep clean and can't shovel in the winter
Grass or Dirt - not really considered patios are they?
And they want to replace those patios with concrete because of all the maintenance that's required to keep them looking nice.
If done right, and let me stress "done right" concrete will last for 30 or more years with just some simple maintenance.
Some great qualities of concrete are:
Durable - concrete is very strong, will withstand harsh weather
Versatile - As you can see above, many designs are possible
Less maintenance - clean and re-seal once every year or two
Environmentally friendlier - don't have to re-stain or paint, or cut down trees for lumber
Better long term value - do it once "right" and it's done, will add more value to your home.
---
Learn how to pour and finish a concrete patio slab here.
---
How nice does a broom finished concrete patio look?
Broom finished concrete patios can look very nice if they are professionally done.
The detail and skill that goes into brooming, edging, and grooving a concrete patio makes all the difference.
Check out the video below where I share my 5 tips for getting the perfect broom finish on a concrete patio.
Here's more related information about concrete patio designs
Concrete Engraving - for when you want to get really fancy!
Exposed Aggregate - for when you like a real stone look!
Stenciled Concrete - a stamped concrete look for less cost!
Concrete Pavers - for those who really just love pavers!
How to use concrete kneeboard sliders to broom finish a patio.
---