How to use
concrete kneeboards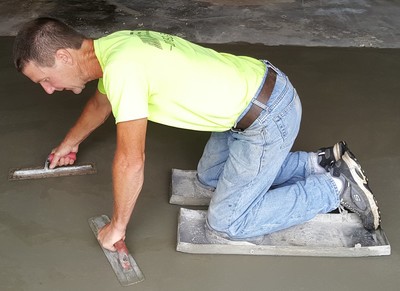 Concrete knee boards or Concrete Sliders are a finishing tool you use to get onto the concrete and start the finishing process.
The knee boards are used for hand finishing concrete with a mag float and/or a steel trowel. 
By using the knee boards or "sliders" you can start finishing concrete earlier than if you use a power trowel.
Hi, my name is Mike Day. I own this site and I also run a concrete floor business, Day's Concrete Floors, Inc.

I made a video to show you how to use concrete knee boards or concrete sliders as some people call them.
Being in the concrete floor business, we use knee boards to finish concrete in many ways.
Concrete Finishing Techniques:

Hand Troweling Concrete Smooth
Concrete kneeboards let you get on the concrete a little earlier than you can walk on it, to start the finishing process.
We use them to mag float the surface of a patio before broom finishing or stamping the concrete.
They allow us to slide along the surface without sinking into the concrete.
The advantage of this is being able to fix any imperfections in the surface of the concrete left behind by the bullfloat. 
Sometimes on smaller concrete floors or slabs, we'll mag float and trowel the floor using just the knee boards instead of a power trowel.
We'll float the surface once and steel trowel it 3 - 4 times to achieve a mirror smooth floor.
Now we've been doing this for a very long time so sometimes this process is just easier for us to do it that way. 
We also use these "concrete sliders" to finish residential floors in the winter that are undercover or decked over and don't have good ventilation.
If we use a power trowel, there's a good chance of us getting carbon monoxide poisoning. Been there and done that too many times.
In my business, my guys and I use concrete knee boards almost everyday we pour a concrete floor, patio, or pool deck.
You'll see in the video just how we use them.
Concrete Finishing Techniques:


How to Mag Float Concrete
In Conclusion:
I'd highly recommend having a pair of these if you finish concrete. They do make finishing concrete much easier. I know for us they sure do.
If you'd like to check out some like we use, there's a link below: