Basement Floor

How to use the concrete floor as the finished flooring!

A concrete basement floor offers you many choices if you decide to transform your basement into living space. It used to be the "norm" to cover up that ugly gray cement flooring and lay some carpet or tile over it. Not any more!
With the new concrete overlays, concrete stains and polished concrete techniques, the concrete floor in your basement is a great material to use as the finished flooring.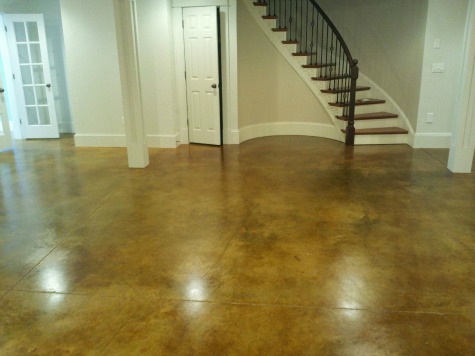 This is a basement concrete floor colored with concrete stain


If you add some saw cuts in the shape of tiles or diamonds, then stain the concrete using two different colors, your concrete flooring can be unique to you and make your neighbors wish they had the same look.
HERE ARE SOME MORE DECORATIVE BASEMENT FLOORING IDEAS
* Concrete stain on your floor
* painting a basement concrete floor
* Sprayed on tinted sealer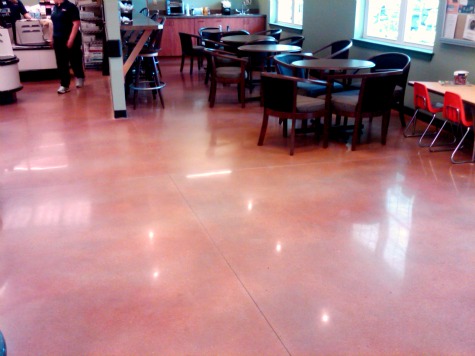 Polished concrete flooring is great for a basement surface

Finishing off your basement will add to your home's value and in most cases is much more economical than adding another room to an existing home.
Enhancing your plain gray basement concrete floor with a decorative concrete option could be one of the easiest choices you have to make when considering flooring for your basement.
Here are some other interesting pages about basements.

If you have a really wet basement with standing water and puddles click on BASEMENT_FLOOR WATERPROOFING to learn how to fix having a wet basement.
If your basement concrete floor is just damp or moist click on WATERPROOFING BASEMENT_FLOORS to learn how to have a dry basement.
Click on BASEMENT_FLOOR DRAIN to learn how to install a drain in your cellar floor.
To learn how to install insulation on top of your basement concrete floor click on BASEMENT_FLOOR INSULATION.
Click on BASEMENT_FLOOR CRACKS to learn how to repair cracks in your cellar floor.
Click on BASEMENT_FLOOR SEALER for tips on what to use to seal your basement concrete floor.
---
Return from Basement floor to Everything About Concrete Home Page