STAMPED CONCRETE OVERLAYS
November 3, 2023

Stamped concrete overlays offer all the benefits of stamped concrete without having to rip out an existing concrete slab. If your existing concrete is worn out, dull, and just not pleasing to look at, then a stamped overlay is just what your looking for.
These stamped overlays go down about 1/4 to 3/8 of an inch thick depending on the pattern. They are strong and durable enough for a pool deck, sidewalk, and a concrete driveway.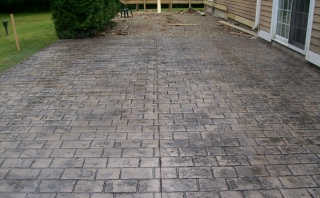 The stamped overlay material can be tinted with color and stained after it hardens to give you a vast amount of color variations. They are imprinted with concrete stamps or textured skins. These flexible rubber stamping tools are available in many different stamped concrete patterns to choose from. Some popular choices are natural stone, brick, slate, wood plank and tile.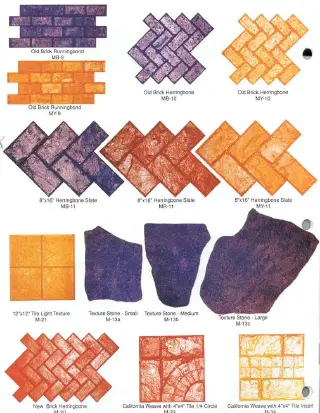 Stampable decorative concrete overlays can be done on interior concrete floors just as easy as exterior concrete. Stamping an overlay requires a trained professional for best results.
The materials being used set up quite fast and getting that perfect look involves timing the stamping process just right. As with all concrete overlays, proper concrete surface preparation is the key to long lasting success. So before you rip out that old, worn out concrete call a trained concrete contractor to see if a stamped concrete overlay will work for you.
For information on other concrete overlay applications read below.
SELF LEVELING CONCRETE OVERLAY
---
Return from Stamped Concrete Overlays to Concrete Overlay
Return from Stamped Concrete-Overlay to Everything About Concrete Home Page