how much does a CONCRETE DRIVEWAY COST

The cost of a basic gray concrete driveway is between $6 - $8 per square foot to install, but the cost of a stained or stamped concrete driveway can range from $10 - $19 per square foot and sometimes more.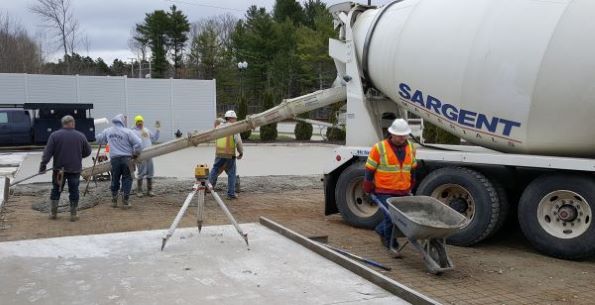 What's the average cost of a concrete driveway?
Size definitely matters when it comes to the average cost of a concrete driveway. 
The average cost is between $2000 - $7000 for driveways between 300 and 900 square feet.
That's just for the concrete driveway and doesn't include sub-base prep, existing driveway removal, drainage installation, and landscaping. These things can add between $1500 - $5000 to the cost of an average size concrete driveway.
information on this page:
Cost to pour new concrete driveway (Broom finish, Stained, or Stamped)
Other costs to think about
Maintenance costs
Concrete driveway VS Asphalt 
Diy or hire a Pro
How long does a concrete driveway last
How thick should a concrete driveway be
Concrete driveway cost per square foot
BROOM FINISH:
I've installed many concrete driveways in Maine, and have one myself. Most of the broom finished concrete driveways that I've installed cost between $6  - $8 dollars per square foot.
The concrete driveway we did in the picture above was 1,500 square feet and cost $9000.00 dollars.
The old driveway removal, gravel prep, compaction, and grading was $5000.00
Total cost of $14,000 for this concrete driveway.
STAINED OR COLORED CONCRETE:
To add color to a concrete driveway either by using a stain or adding integral color to the concrete, costs between $8 - $12 dollars per square foot.
The final finished texture is still a broom finish just with the color added.
STAMPED CONCRETE:
A stamped and colored concrete driveway will cost $15 - $18 dollars per square foot. For this cost you can stamp the concrete to look like Ashlar slate, Random stone, Cobblestone, and many more patterns that are available.
other costs to factor in:
Existing driveway removal - $1 - $2 dollars per square foot
Drainage (if needed) costs will vary
New gravel installation (if needed) $2 - $4 dollars per square foot
Compaction of gravel (existing or new) and grading $2 - $4 dollars per square foot
Landscaping, looming, grass seeding, or turf installation (costs will vary)
City permits
costs to maintain a concrete driveway
Concrete needs to be taken care of if you are to expect it to last a long time.
Basic maintenance for a concrete driveway includes:
A yearly pressure washing (to remove mold, mildew, dirt, road salt residue) If you do it yourself $50, If you hire a pro $1 - $2 dollars per square foot.
First year seal with a penetrating sealer (helps block moisture absorption) $1.00 - $1.50 per square foot.
Every 1 - 2 years after - re-sealing the concrete (with topical acrylic sealer for added protection $1.00 per square foot
Fix any cracks, chipped areas, or spalling (costs will vary with repair if needed) call a Pro
PRO TIP - Never use salt or de-icing materials on a concrete driveway, only use sand.


Concrete driveway vs asphalt driveway
A concrete driveway has some advantages over an asphalt driveway.
A concrete driveway is thicker and stronger (5 - 6 inches thick VS 2 - 3 inches for asphalt)

A concrete driveway doesn't get soft in extreme heat so no tire marks or kick stand penetration on hot summer days.

A concrete driveway is cooler to park and walk on in the summer, it reflects the sun and doesn't absorb heat like a black asphalt driveway does.

A concrete driveway is easier to re-seal to maintain. Just spray on a thin coating of clear concrete sealer, no thick black tar to roll on.

A concrete driveway (if done right) will last 30 years or more VS an asphalt driveway that'll last 15 - 20 years.
The price of a concrete driveway will be more than asphalt (maybe double) but if it 's done right it'll last about twice as long.
Asphalt only comes in one color BLACK, Concrete can be colored in up to 20 different colors.
is this a diy project or should you hire a pro
Being in the concrete business, I feel this is better left to the Pro's. Pouring and finishing concrete takes some practice and there's quite a big learning curve to be really good at it.
But, if you're quite handy and you like doing things yourself, you may be able to tackle a small concrete driveway on your own if you do it in small sections.
Watching some of my YouTube videos will help you learn how to work with concrete and should make your decision to do this yourself or hire a pro a lot easier.
How long will a concrete driveway last?
A concrete driveway that's properly installed and maintained will last 25 to 50 years.
What's very important is the sub-base preparation and installation. You need a very good gravel sub-base for your area that's been compacted and graded to shed water.
Next is hiring a good concrete contractor that's experienced in installing concrete driveways and understands concrete mix designs. Using the right concrete for a driveway and knowing how to install it, will extend the life of your driveway.
Maintenance is very important to the lifespan of your concrete driveway. Cleaning & re-sealing on a regular basis will keep the concrete protected from the elements and extend its life.
how thick should a concrete driveway be?
For residential driveways, a 5" thick concrete driveway will be good in most cases. If you're driving heavy vehicles like oil trucks, dump trucks, garbage trucks or others, then consider 6" or more depending on the soil under the concrete.
If the concrete driveway is for commercial use where heavier trucks will be driving on it on a regular basis then 8" - 12" is better.
Of course the gravel sub-base plays an important role in determining the thickness needed for a concrete driveway but all things considered these are good averages.
When i install a concrete driveway - What's included in my concrete driveway cost:

1. 5 inch thick plain gray concrete (4000 psi)
2. A broomed surface texture
3. Sawed expansion joints to help control cracking
4. A concrete driveway sealer
5. A mat of rebar for reinforcement
6. All labor for forming, pouring, and finishing
Average cost for the above: $6 - $8 dollars per square foot
What's not included in my concrete driveway cost:

1. Sub-base preparation
2. Finish landscaping around driveway
3. Existing driveway removal
4. City permits or Building permits
These four things vary so much from each driveway it would be difficult to include them in a square foot cement driveway cost.
Depending on where you live the sub-base preparation may or may not add a significant amount to the total price.
do you have freeze / thawing or winter months?
In Maine, we have a lot of freeze/thaw cycles from November to March, to minimize any ground movement I like to see 2 - 4 feet of good crushed gravel that's been well compacted.

Please understand, that's if there is a lot of clay or loom (dirt that doesn't drain well) where the driveway is going. If there's already a mixture of gravel or sand in the existing sub-base then digging four feet deep is unnecessary.

Where there isn't any freeze/thaw cycles to worry about the sub-base preparation cost, in most cases, should be a lot less.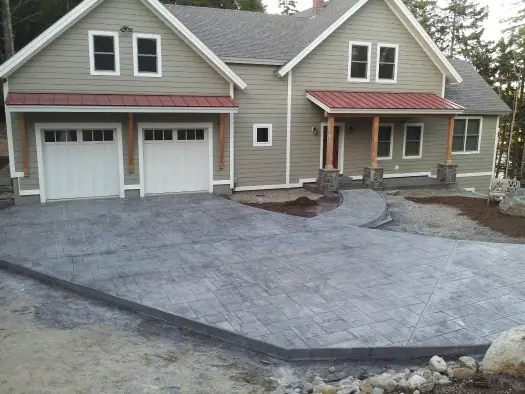 Stamped concrete driveway cost approximately 15 dollars per square foot
A colored and stamped concrete driveway cost is about twice the cost of a gray concrete driveway. The price can range from 12 - 20 dollars a square foot depending on the type of color, stamp pattern, size of driveway, and extra labor needed.

How much does a stamped concrete driveway cost vs a plain gray concrete driveway?
Most of the increased cost for stamping concrete is due to the increased labor needed to install the stamped concrete and the color.
Stamped concrete is usually done in smaller sections for ease of finishing which means more pours to complete the driveway. Plus we have to come back to wash, clean, and seal it in successive days which adds a lot of time to the project.
The cost of color for stamped concrete driveways can add between 1 - 2 dollars a square foot for some highly decorative driveways. 
Most stamped concrete driveways will average $15 dollars per square foot VS $7 dollars per square foot for a plain gray broom finish concrete driveway.
Does a concrete driveway increase my homes value?
According to some research I did on other sites, A concrete driveway could increase your homes value anywhere from 5% to 10% depending on your driveway size and your location.
Check with your local real estate company to get a more accurate estimate if that's something you need to know.
Here's what you can expect to pay for other concrete applications.

SEE MY CURRENT PRICE LIST - HOW MUCH DOES CONCRETE COST PER CUBIC YARD.
WHAT IS THE COST OF CONCRETE? A GREAT EXAMPLE!
HOW MUCH DOES A CONCRETE FLOOR COST?
HOW MUCH DOES A CONCRETE SLAB COST?
HOW MUCH DOES CONCRETE STAINING COST?
HOW MUCH DOES CONCRETE STAMPING COST?
---
Return from Concrete Driveway Cost to Concrete Cost

Return from Concrete Driveway Cost to
Everything About Concrete Home Page
---