CONCRETE DRIVEWAY COST

How much does a concrete driveway cost?
Concrete driveway cost depends on many different things. Square footage, thickness, and sub-base preparation are just a few. As a concrete contractor, I'll tell you what I include and don't include, when I give customers an estimate for a concrete driveway.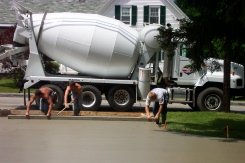 I've installed many concrete driveways and have one myself. Most of the concrete driveways that I've installed cost about $6.00 dollars per square foot. The concrete driveway we did in the picture above was 1,500 square feet and cost $9000.00 dollars.

What's included in my concrete driveway cost:

1. 4 - 5 inch thick plain gray concrete (4000 psi)
2. A broomed surface texture
3. Sawed expansion joints to help control cracking
4. A concrete driveway sealer
5. A mat of rebar for reinforcement
6. All labor for forming, pouring, and finishing
What's not included in my concrete driveway cost:

1. Sub-base preparation
2. Finish landscaping around driveway
These two things vary so much from each driveway it would be difficult to include them in a square foot cement driveway cost.
Depending on where you live the sub-base preparation may or may not add a significant amount to the total price.
In Maine we have a lot of freeze/thaw cycles from November to March, to minimize any ground movement I like to see four feet of good crushed gravel, that's been well compacted, under the concrete driveway.

Please understand, that's if there is a lot of clay or loom (dirt that doesn't drain well) where the driveway is going. If there is already a mixture of gravel or sand in the existing sub-base then digging four feet deep is unnecessary.

Where there isn't any freeze/thaw cycles to worry about the sub-base preparation cost, in most cases, should be a lot less.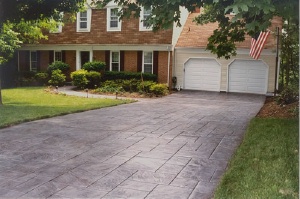 A colored and stamped concrete driveway cost is about twice the cost of a gray concrete driveway. The price can range from 12 - 20 dollars a square foot depending on the type of color, stamp pattern, size of driveway, and extra labor needed.

How much does a stamped concrete driveway cost vs a plain gray concrete driveway?
Most of the cost is due to the increased labor needed to install the stamped concrete and the color. Stamped concrete is usually done in smaller sections for ease of finishing which means more pours to complete the driveway.
The cost of color for stamped concrete driveways can add between 1 - 2 dollars a square foot for some highly decorative driveways. For me it's hard to compare the cost of a concrete driveway vs an asphalt driveway. I know they are both driveways and in most cases the concrete driveway cost is more than the asphalt cost, but concrete is such a different material and offers so many more advantages over asphalt like:
1. Much more durable, will last 2 or 3 times longer than asphalt
2. Concrete is 4 - 5 inches thick - Asphalt is 2 inches thick
3. Concrete doesn't have to be sealed with black tar every year
4. Concrete doesn't get soft in hot weather like asphalt
5. Concrete is cooler to stand on and play on for the kids
6. If gray or lightly colored, concrete reflects light making the driveway brighter at night
7. Once sealed concrete has very low maintenance over its lifetime
If you are trying to decide what kind of driveway to install, don't let the initial concrete driveway cost be the deciding factor. Average the cost of a concrete driveway over 30 or 40 years and the minimal maintenance required and I think you'll agree it is much less than asphalt.

Here's what you can expect to pay for other concrete applications.

SEE MY CURRENT PRICE LIST - HOW MUCH DOES CONCRETE COST PER CUBIC YARD.
WHAT IS THE COST OF CONCRETE? A GREAT EXAMPLE!
HOW MUCH DOES A CONCRETE FLOOR COST?
HOW MUCH DOES A CONCRETE SLAB COST?
HOW MUCH DOES CONCRETE STAINING COST?
HOW MUCH DOES A CONCRETE PATIO COST?
HOW MUCH DOES CONCRETE STAMPING COST?
HOW MUCH DOES A CONCRETE COUNTERTOP COST?
HOW MUCH DOES CONCRETE POLISHING COST?
HOW MUCH DOES CONCRETE STAIRS COST?
HOW MUCH DOES COLORED CONCRETE COST?
HOW MUCH DOES A DECORATIVE CONCRETE OVERLAY COST?
---
Return from Concrete Driveway Cost to Concrete Cost

Return from Concrete Driveway Cost to
Everything About Concrete Home Page
---
If you liked this, please share.  Thanks!