How Much Does Concrete Cost
Updated for 2023
November 3, 2023

How much does concrete cost a yard?
These concrete prices are an average of 3 National websites that research concrete costs all over the US.
My cost for concrete, what I pay for a cubic yard in Maine, will be at the bottom of the page. 
The Concrete Network, Homeguide, and Homeadvisor surveyed Ready-mix companies, concrete contractors, and homeowners to arrive at the average concrete costs for yardage, slabs, driveways and more.
The average cost of a yard of concrete in the U.S. is between $120.00 and $155.00. Prices vary depending on what PSI strength you order. *UPDATED FOR 2023*
These are the prices you can expect to pay when you call a Ready-Mix Company to order concrete by the yard. (these prices do not include labor costs for installation - see those below)
A cubic yard of concrete covers 81 square feet at 4 inches thick. The cost of concrete for a 4" slab costs between $1.48 and $1.91 per square foot.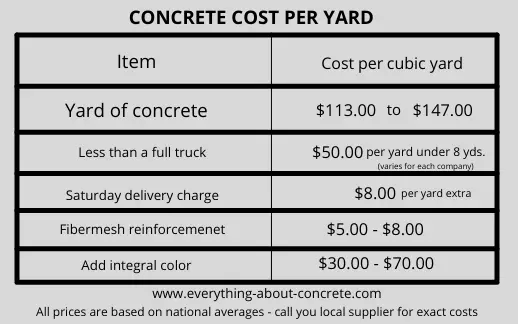 concrete prices by the yard
Concrete strength is measured in PSI (pounds per square inch). 
When you call to order ready-mix concrete, you tell the concrete dispatcher the total yardage and what strength psi. you want.
The psi. you order will depend on what you're doing. Most concrete floors and slabs are 3000 psi. Most exterior driveways, patios, and walkways in areas where the temps. get below freezing use 4000 psi. concrete.
STRENGTH
2500 psi
3000 psi
3500 psi
4000 psi
4500 psi
5000 psi
AVERAGE COST PER YARD
$110 - 120
$125 - $135
$135 - $145
$140 - $150
$150 - $165
$165 - $180
concrete prices for various projects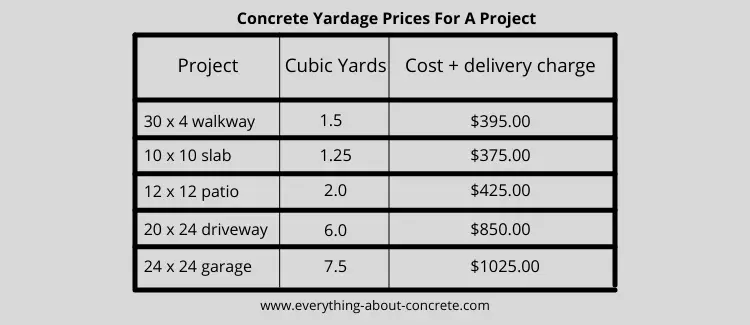 When ordering ready-mix concrete, most companies have a "small load charge" if the total yardage is under 6 - 8 yards. All companies have their own policy on this. 
EXAMPLE: Some will charge $50 dollars per yard for every yard under the minimum yardage. If their minimum yardage is 8 yards and you only need 3 yards, you get charged $50 x 5 (difference) =$250 extra.
Most concrete projects like walkways, patios, small slabs, driveways and garages are poured 4" to 6" thick. The above prices are calculated based on 4 inch thick concrete. 
ESTIMATING THE COST OF A CONCRETE PROJECT
When you trying to estimate the cost of your project, some other things to consider besides concrete are:
City permits & inspections (varies from state to state) $100 - $1200

Demolition and disposal fees (by the ton) $30 - $50 per ton 

Gravel & sub-base preparation (varies by project size) $1000 - $5000

Concrete reinforcement (wire mesh or rebar) $0.50 per square foot

Concrete pump truck $600 - $1200
Labor to form & prep for the slab (varies by size) $3.00 per square foot
Labor to place and finish the concrete (varies by type of finish) $3.00 - $20.00 per square foot
Most all estimates for concrete projects are based on the size of the project and the type of finish on the concrete.
EXAMPLE: A basic 24' x 24' garage slab might cost $9000.00 with all the sub-base prep/gravel and concrete costs included. This project has a basic smooth trowel finish.
A 12' x 12' Stamped concrete patio might cost $6500.00 with the sub-base prep/gravel and concrete costs included. This project has a more skilled/specialized finish.
The basic garage slab, even though larger, costs about $10.00 per square foot VS the stamped concrete patio costs $30.00 per square foot.
how much does it cost for a concrete slab?
Most concrete slabs will range in cost from $7 to $10 dollars per square foot. (slab only price)
The basic costs for a:
10' x 10' concrete slab will cost between $1500 - $2000 dollars
12' x 12' shed slab will cost between $1600 - $2500 dollars
20' x 24' driveway slab will cost between $3000 - $4800 dollars
24' x 24' garage slab will cost $5900 - $7500 dollars
A simple residential concrete slab is usually between 4 - 6 inches thick.
The SQUARE FOOT price for both concrete and labor to install a simple concrete slab will be between $7.00 and $10.00 dollars per sq. ft. depending on the thickness.
The cost of concrete, reinforcement, and labor will range from $285 - $410 dollars per yard for the installation of most slabs.
Costs vary depending on slab size, thickness, type of reinforcement, labor costs, and permits.
Sub-base and gravel installation or demolition costs are usually in addition to the above costs.
prices for concrete slabs (ADD 20% FOR 2023)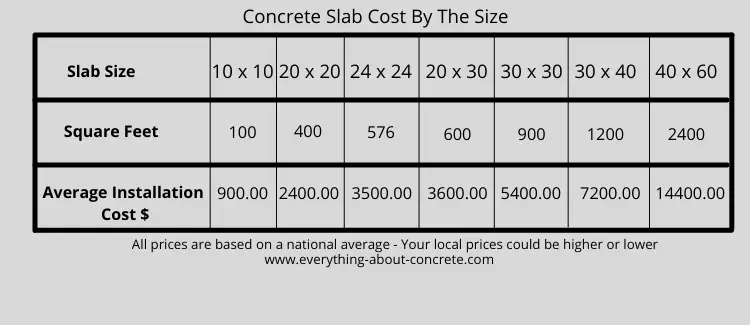 The average price for a standard 6" thick concrete slab is $9.00 per square foot. 
Note: In some areas of the U.S., concrete costs and labor costs are quite a bit higher than the national average. You could expect to pay $15.00 per sq. ft. for the same size slab in these areas.
Contractor Tip: With the smaller size slabs, less than 20 x 20, a lot of concrete contractors have minimum prices for labor costs. 
A minimum labor charge might be $1500 dollars for a 10 x 10 slab as well as $1600.00 for an 18 x 12 slab. Then, the concrete and reinforcement is added to that.
The reason for a minimum charge on small projects is because there has to be a certain amount of profit built into a job or it's not worth doing. A business can't just "break-even" on a job and expect to stay in business very long.
how much does a concrete driveway cost?
PRICES FOR CONCRETE DRIVEWAYS:
A concrete driveway will cost between $10 - $20 dollars per square foot. The type of finish, adding color, stamping the concrete, staining, or having exposed aggregate will play a big factor in determining the cost.
Basic plain grey concrete with broom finish and sawed or tooled joints:

$10.00 - $12.00 per sq. ft.
Stamped concrete with one color or Engraving with stained concrete:
$20.00 - $25.00 per sq. ft.
Integral color with a broom finish or 1 color with exposed aggregate:
$12.00 - $15.00 per sq. ft.
Stamping with borders, Logos, Multiple colored stains, Stencils with staining:
$20.00 - $30.00 per sq. ft.
There are many factors that contribute to the cost of a concrete driveway. 
The 4 main cost factors are:
Size of the driveway - The average size driveway in the U.S. is 600 sq. ft.
Thickness of the concrete - The minimum thickness is 4 inches, 6 inches for heavy vehicle traffic
Type of finish or design - When you start adding color and designs, the price goes up quickly
Site prep - Different for every driveway - only way to know accurate cost is to get a quote.
how much does concrete cost per square foot?
The square foot price for concrete is really going to be determined by the thickness of the slab.
A cubic yard of concrete at 4 inches thick covers 81 square feet. The average cost for a yard of 3000 psi. concrete is $120.00. ($110 ÷ 81 = 1.48)
Concrete at 4" thick costs $1.48 per square foot.
A cubic yard of concrete at 6 inches thick covers 52 square feet. If you use the same 3000 psi. cost of $120.00 per yard it equals ($120 ÷ 52 = 2.31)
Concrete at 6" thick costs $2.31 per square foot.
how much does a 10 YARD truck of concrete cost?
A full truck of concrete generally hauls 10  - 12 cubic yards of concrete. 
At $120.00 per yard for 3000 psi. concrete, a full truck of concrete costs about $1200.00.
Added to that cost are state taxes, any additives like fibermesh, accelerators, water-reducers, and higher psi. mixes.
how much does concrete stamping cost?
Stamped concrete will cost between $18.00 - $25.00 per square foot, for a basic single pattern stamped concrete design.
Included in that cost are: 4 inches (thickness) concrete, 1 integral color for the concrete, 1 pattern stamp, Labor to form, place, and stamp the concrete, clean and seal the concrete.
Usually not included are things like sub-base prep, stamped borders, thicker concrete, two or more patterns, decorative saw designs, stamped compass, and detailed staining would add to the square foot price from $1.00 - $5.00 per sq. ft.
CONTRACTOR'S NOTE: I personally do a lot of stamped concrete patios, walks, pool decks and entry slabs. All are usually 4" thick and my average stamped price is $20.00 per square foot.
my Updated Concrete Price List For 2023
I own a concrete business in central Maine.  These concrete prices will reflect the cost of concrete in my local area.
They should give you a good estimate of what concrete cost per yard. For more accurate prices check with your local ready mix company.
What does concrete cost per yard for me?
These are the prices I pay for a yard of concrete near me. (Maine)
Here are 4 popular concrete mix designs used by most concrete contractors.
For 3/8" stone (pea stone) instead of 3/4" ADD $5.00 PER YARD
For higher PSI Concrete mixes you should contact the concrete company you are using directly to get an accurate quote.

What do concrete additives cost?
Concrete Additives that add to the cost of a yard of concrete.
REINFORCING FIBERMESH - $7.50 per yard

GLENIUM 7500 (superplasticizer) - $6.00 per yard

POZZUTEC 20+ (non-chloride accelerator) - 1%  $7.00 per yard

POZZUTEC 20+ (non-chloride accelerator) - 2%  $14.00 per yard

POZZOLITH 122HE (chloride-based accelerator) 1%  $5.00 per yard

POZZOLITH 122HE (chloride-based accelerator) 2%  $10.00 per yard

CALCIUM CHLORIDE (50lb bag) - $21.00 per bag
some other charges that add to the cost of the concrete
Some other fees you may get charged from the concrete company.
SATURDAY DELIVERY - $7.00 per yard
WAITING TIME (assessed per hour after 7mins/cy expires - $75.00 per hour
You get 7 minutes to unload each yard, after that they charge you per hour.
SMALL LOAD CHARGE (per cubic yard under 5 cy NOT hauled) - $40.00 per yard
If you only order 3 yards, they charge you an extra $80.00 dollars for being under 5 cubic yards. This charge will vary between company's, make sure you ask.
WINTER DELIVERY (cold climate areas) - $8.00 per yard
In cold climates, they have to charge extra to heat the concrete with hot water.
BARGE or FERRY DELIVERIES (for delivery to coastal islands) - $55.00 per yard
Make sure you ask, they could also charge by the hour.
Sometimes there may be a fuel surcharge if the cost of fuel reaches a certain price, ask in advance.

Do concrete companies offer any discounts?
Discounts, Credits, and Rebates some companies offer:
PUMP CREDIT (you may get a discount for pumping the concrete) - $3.00 per yard
It's usually faster to unload the concrete, gets them their truck back quicker.
QUICK PAY DISCOUNT (payments made within 10 days of invoice date) - $2.00 per yard
This concrete company has a 100/250 RULE. If you have a SINGLE PLACEMENT of 100 cubic yards of concrete or any SINGLE PROJECT requires in excess of 250 cubic yards of concrete, they will give you a discount per cubic yard.
They also have a VOLUME REBATE. If you pour 3000 cubic yards - $1.00 per yard rebate.
If you pour 5000 cubic yards or more - $2.00 PER YARD REBATE
Hopefully these concrete prices help answer your question "How much does concrete cost?"
Check out how much does a 30' x 30' concrete slab cost.