Did you know concrete floors could look this good?

November 3, 2023

If you're wondering what you can do to use your concrete floors as the finished flooring, look no further.
Below, I'll show you some highly decorative, polished, stained, and colored options I think you'll find very attractive.
I'm Mike, my company Day's Concrete Floors, Inc has been installing concrete flooring since the 80's.
More recently, and quite often now, we're being asked to stain, polish or stamp the interior floors. 
Here's some reasons why:

Integral color can be added with many colors to choose from

The surface can be polished to a high sheen

Stains can create some amazing effects

Overlays give old concrete a new look

Epoxies are now very decorative and durable

Concrete is considered a more "green" sustainable material

Concrete can be heated with radiant heat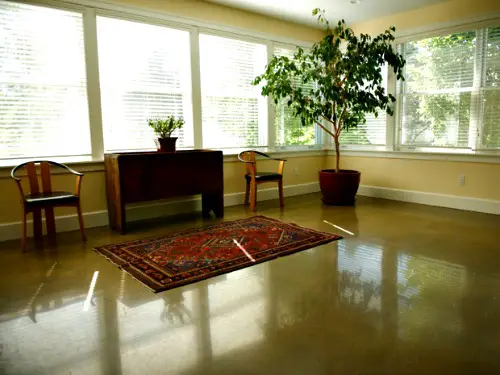 Polished concrete courtesy of Jon Meade Design

Some of the most popular choices
| | |
| --- | --- |
| Great looking interior floor, can be polished to a matte or high gloss finish. These floors can also be stained or dyed to add color. Requires less maintenance than most other flooring materials. | |
| | |
| --- | --- |
| Most concrete can be stained. I stain more floors than any of these other types of floor finishes. There are many colors to choose from and every floor is unique. | |
| | |
| --- | --- |
| Stamping is great if you're looking for a certain pattern. There's patterns for wood, cobble stone, slate, brick and many more. Multiple colors can be used to create a floor that looks very much like the "real" thing. | |
| | |
| --- | --- |
| Old and worn concrete can be resurfaced to look like stamped concrete or made smooth and stained or polished. An overlay is a great choice for concrete that had carpet, tile or laminate removed and the concrete is cracked, pitted, and stained. | |
| | |
| --- | --- |
| Epoxies make great interior floor finishes. There are many colors to choose from, they are very durable and easy to maintain. With the "metallic" additives now available, some wild looks can be achieved that are one of a kind floors. | |
Some things to consider before you decide

The cost of these types of floors can vary from $4.00 per sq. ft. for a simple stained floor to $15.00 per sq. ft. for a stamped or decorative overlay.

If you're building "new" consider using

radiant heat in the concrete

. This will keep the concrete warm under your feet, a very good feeling.

Smooth or polished concrete can be slippery when they get wet, but no more so than polished granite, hardwood, or smooth tile floors.
Let's recap, why choose concrete for interior flooring ?

Environmentally friendly - most homes already have concrete floors, there's no need to cover them up with another flooring material.
Versatility - as you can see from reading above, there's so many types of finishes that can be applied to the concrete.
Durable - if installed properly, concrete is very tough and doesn't damage very easily.
Low maintenance - most of the finishes require only a damp mop, vacuuming and/or dusting. no need for harsh chemical or cleaners.
Long lasting - if properly maintained, the lifespan of finished concrete flooring is 30 years or more. 
How to pour a concrete floor
This is a video of us pouring a concrete floor using a conveyor truck.
It's interesting to see how easy a conveyor truck makes it to place the concrete right where we need it. Take a look and let me know what you think.
Here's some information related to concrete floors:
How to use a laser level for beginners
Concrete_floor covering options - more ideas about using concrete for a floor finish
Concrete_floor sealer - a simple solution for sealing your concrete floor
Learn about the different types of concrete sealants

More about using epoxy to paint your concrete_floor
A step by step guide on how to install painted epoxy floors
Watch us as I show you how to pour a concrete floor.
How to use concrete knee boards and concrete sliders.
---