STAMPED CONCRETE PATTERNS AND DESIGNS
When it comes to which stamped concrete pattern you're going to use, there's endless designs to choose from.
I personally like this Ashlar Slate pattern, it's one of the most popular one's we do for our customers.
I've listed a few stamp designs below, there's many more to See at Walt Tools if you go to their Stamped concrete page.
Walt Tools sells concrete stamps online if you're looking for a set. They've got really good quality stamps that I highly recommend.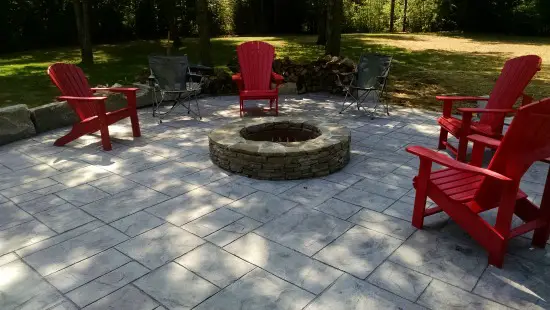 Ashlar Slate Pattern
The stamp patterns you see below are just a few of the patterns available at Walt Tools.
You can click on the picture to bring you to their site and check out each pattern and the cost of the stamps.
You can buy individual stamps or a whole set. There's border stamps, rollers, texture mats, and all the touch up tools you'll need.
If you want to learn how to stamp concrete from me, I have a training course that teaches you all the basics of learning how to stamp patios, decks, walkways and floors.
Some of the more popular patterns are cobblestone, brick, wood plank, fieldstone, and slate.
View a complete list of Concrete Stamping Patterns from Walt Tools Company.
You can also get your integral concrete color, powder release, liquid release, and stamped concrete sealer there as well.
Some of the links below will show you more patterns and may help you decide which one you want.
---
Return from Stamped Concrete Patterns to Stamped Concrete
Return from Stamped Concrete Patterns to Everything About Concrete Home Page
---