STAMPED CONCRETE SEALERS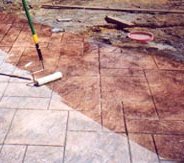 There are many stamped concrete sealers to choose from. Which one will work best for your stamped concrete is what I'll help you figure out.
Sealing stamped concrete is a very important step to maintaining its durability and beautiful appearance. If the concrete is sealed correctly, it will help protect the stamped concrete from damaging water, chemicals, stains, oil, and freeze/thaw cycles in colder climates.
There are two basic types of stamped sealers, one is a penetrating sealer the other is a film forming sealer.
PENETRATING SEALERS
A penetrating sealer does actually penetrate the surface and react chemically with the concrete to protect against moisture and deicing salts. It fills the micro and macro spaces, solidifying the entire substrate into one solid mass.
These prevent rain and moisture absorbtion, allowing water to bead up on the surface. The sealed surface is very easy to clean and stays cleaner longer. This has the lowest maintenance and reapplication costs of other sealers.
Penetrating sealers are UV resistant and most allow moisture vapor to escape the concrete.
Use a penetrating stamped concrete sealer for outside and inside stamped concrete where a matte finish is desired. If you don't want a wet, shiny look this is the sealer to choose.
FILM FORMING SEALERS
Film forming sealers do just what their name implies, they form a protective film over the surface of the concrete.
Film formers are the most popular choice for decorative stamped concrete because they enhance the colors in the concrete and leave a gloss or sheen look to the concrete.
Acrylic film forming sealers are the easiest to apply. They can be used on interior or exterior stamped concrete.
Acrylic sealers provide good protection against water and chemical damage. They are UV resistant, non yellowing, fast drying, and come in high or low gloss levels. Acrylics offer a softer surface and are usually the least expansive.
Urethane film forming sealers go on about twice as thick as the acrylic sealer and provides excellent protection against chemicals and abrasives.
These are very good for high traffic areas, really enhance the beauty of decorative concrete, and can be used on both interior and exterior stamped concrete.
Epoxies will give you the hardest, longest lasting, chemical and abrasive resistant finish of all the stamped concrete sealers.
They bond very well to concrete and are generally used for interior applications. They are less UV resistant and may yellow if exposed to the sun. Epoxies are great sealers for high traffic areas and very easy to maintain. Before installing any sealers to stamped concrete make sure the surface is completely dry and clean from dirt, dust, oil, and grease.
Applying the sealer correctly will make clean up easier and offer very good resistance to harsh weather conditions, mold, and bacteria growth.
Cleaning and sealing concrete should be done on a regular basis. The frequency will depend on how high a traffic area to cars or foot traffic the concrete is exposed to.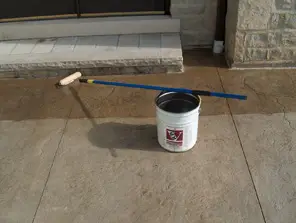 There are many good brand name stamped concrete sealers on the market. Knowing these basics will help you choose the right one for your application.
For more information and to learn how to correct sealer problems click on CONCRETE SEALER.
For more information on other stamped concrete topics, read below:
---
Return from Stamped Concrete Sealers to Stamped Concrete
Return from Stamped Concrete Sealers to Everything About Concrete Home Page
---
If you liked this, please share.  Thanks!