STAMPED CONCRETE DESIGNS
There are so many stamped concrete designs to choose from, trying to decide which concrete stamp is your favorite could be challenging.
When it comes to choosing a concrete design, looking at some pictures or visiting some places where stamped concrete has been installed are two of your best options.

The versatility of being able to use stamped concrete for driveways, patios, walkways, pool decks, stairs, and concrete floors is what makes it such a great material.
If you've never seen a stamped concrete design like cobblestone, ashlar slate, wood plank, or brick, it can be absolutely beautiful if it has been installed properly.

One thing to think about when deciding on a design is that the slab can be more than just one pattern and one color.
Mixing together different colors of a concrete stain can give you a great effect, or using colored concrete along with a concrete acid stain can make some awesome designs.
There are a lot of stamped concrete patterns that will look good together. Borders around the edges or a designer band through the middle can really add a lot of character to a stamped concrete driveway or patio. Let your imagination run wild!

Keep in mind when designing, most all concrete will need control joints or sawed expansion joints. The concrete stamps with straight lines like brick will be able to hide most of these.
Some of the other concrete patterns like random stone will have straight lines sawed through them. To me this isn't a big deal, but to some people it might look kind of funny.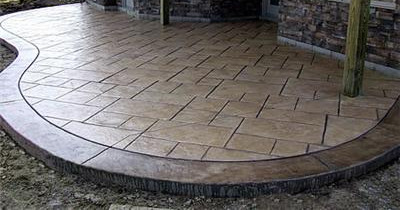 Designing for stamped concrete can be lots of fun, there are endless possibilities to choose from, and compared to natural stone, real brick, or precast pavers it's more durable, easier to maintain, and very affordable.
To learn more about stamped concrete read below:
---
Return from Stamped Concrete designs to Stamped Concrete
Return from Stamped Concrete Designs to Everything About Concrete Home Page