SELF LEVELING CONCRETE OVERLAY
November 3, 2023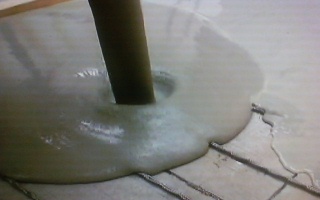 A self leveling concrete overlay has the ability to self level without troweling. These self leveling concrete polymer modified toppings can be used to resurface or fix, old uneven concrete floors and slabs.
Self leveling concrete can be used as an underlayment for wood, tile or VCT flooring, evening out the high and low spots of a concrete floor, making the installation of these materials much easier.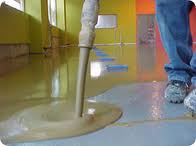 Self leveling concrete materials are usually mixed using a portable concrete mixer or with a 1/2 inch drill, mixing paddle, and 5 gallon bucket. The self leveling material is poured from a bucket or pumped onto the surface using a concrete line pump with a 2 inch pump hose. Then, using a spreader or a squeegee, the material is distributed into place where its left to self level and harden.
Decorative Self-Leveling Concrete Overlays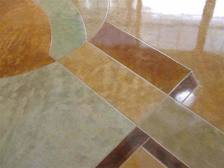 You can also use self leveling concrete as a new canvas for concrete acid stain and concrete dye. Saw cutting or engraving a pattern will enhance the look even more.
Maybe you're turning your garage into living space and the floor pitches to a center drain, instead of tearing it out and pouring a new floor, a self-leveling concrete overlay will do the job at a much lower cost.
Learn about other concrete overlays similar to self leveling concrete
---
Return from Self Leveling Concrete Overlay to Concrete Overlay
Return from Self Leveling Concrete to Everything About Concrete Home Page