BASEMENT FLOOR SEALER


WHAT IS THE BEST BASEMENT FLOOR SEALER?
Applying a basement floor sealer is a good way to help protect your basement and home from the harmful effects of moisture vapor, radon gas, mold and mildew.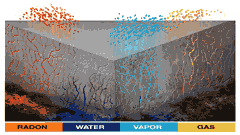 Concrete is very porous, after the concrete is poured about half of the water has to evaporate. As this surplus water pushes to the surface, it leaves behind a network of capillaries (pores) inside the concrete.
The pores are smaller than a piece of hair, but much larger than water molecules. Water vapor and gases flow easily right through, drawn in by the lower pressure inside your home.
Most basements start leaking water within 10 - 15 years. Efflorescence (a white powder) or musty odors are good signs of moisture problems in your basement.
Finishing your basement traps moisture vapor seeping through the concrete, which causes mold and musty odors in many basements. Rising basement air then spreads mold spores and radon gas throughout the house.
HOW DOES A PENETRATING BASEMENT CONCRETE FLOOR SEALER WORK?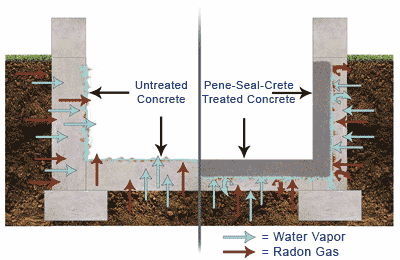 Penetrating floor sealers penetrate deep into the concrete pores and form a gel. This gel expands filling the pores and hairline cracks in the concrete, turning the concrete into a solid mass.
This process will not let significant amounts of water on the surface soak into the concrete. It will also keep moisture vapor and radon gas from migrating up through the concrete from the sub-grade below.
It drys very quickly and is invisible, this type of sealer will not change the look of the concrete. It doesn't leave a film or skin on the surface which means you can apply paint and other coatings over it.
This is a very good sealer. Look for one that says penetrating water based silicate sealer. They can be sprayed on with a simple pump up sprayer.
Sealing basement floors, old or new, is always a good idea. It's also something you can do yourself.
Click on CONCRETE SEALER to learn how to prepare the surface before applying a basement concrete floor sealer.
Click on PAINTING A BASEMENT FLOOR to learn how to apply epoxy paint in your basement.
Click on BASEMENT FLOOR CRACKS to learn how to repair cracks in your basement floor.
Click on BASEMENT FLOOR INSULATION to learn how to insulate your basement floor.
Learn all about MOISTURE VAPOR BLOCKERS.

---
Return from Basement floor sealer to Basement floor
Return from Basement floor sealer to Everything About Concrete home page

---
If you liked this, please share.  Thanks!