TINTED CONCRETE SEALER
ADDING COLOR TO CONCRETE SEALERS
November 3, 2023

A tinted sealer or colored concrete sealer provides all the benefits of a sealer along with a small dose of color.
Both solvent and water based sealers can be tinted. Tinting the sealer is one of the least expensive ways to achieve a decorative effect on a concrete project.
Some sealers come pre-tinted and others offer a concentrate with a wide variety of colors to add to a clear sealer.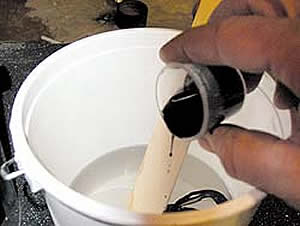 Tinting the concrete sealer will produce a subtle translucent to opaque color effect. It's important the sealer is applied very thin so it doesn't puddle, multiple thin coats are better than one thick one.
Spraying is usually not recommended when using a water based colored sealer because the pressure and sprayer tip can cause the pigment to separate from the sealer. You can use a colored sealer as a low cost decorative finish or to blend and enhance a decorative project when the color isn't quite right.
Remember to always test a small sample to make sure it's the right color, level of gloss, and translucency. While many decorative concrete projects are using integral color, color hardeners, and stains, a sealer with tint in it could offer you an alternative at a much lower cost to create a unique surface treatment and enhance the color of the finished product.
Keep in mind a colored sealer is topical not penetrative and in time will wear off and need resealing.
It's important, if you are offering this to a client, to inform them of the maintenance requirements so their expectations can be met. For information on other related concrete sealer topics, read below.
CHEMICAL STRIPPERS FOR REMOVING SEALERS
CONCRETE MOISTURE PROBLEMS CAN CAUSE SEALER WHITENING
CONCRETE SEALER AND CONDENSATION PROBLEMS
CONCRETE SURFACE TEMPERATURE CAN CAUSE SEALER PROBLEMS
DEICING SALTS AND CONCRETE SEALER PROBLEMS
WHAT CAUSES SEALER BLISTERS AND BUBBLES?
SEALER SURFACE PREPARATION BEFORE SEALING
WHAT KIND OF SEALER APPLICATOR SHOULD I USE?
For where to purchase pigmented (colored) concrete sealers click on DIRECT COLORS TINTED CONCRETE SEALER
---
Return from Tinted Sealer to Concrete Sealer
Return from Tinted Sealer to Everything About Concrete Home Page