CONCRETE LINE PUMPS
AND CONCRETE TRAILER PUMPS
November 3, 2023

Concrete line pumps are a portable, towable, small concrete pump used for many concrete pumping applications. Also called concrete trailer pumps, they can be used to pump concrete, shotcrete, grout, mortar, foamed concrete and flowable fill.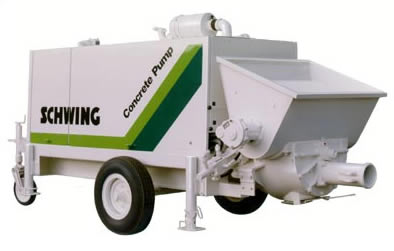 Schwing concrete trailer pump
Being a small concrete pump and also a very mobile concrete pump, a line pump can fit into tight, confined areas of a construction site that a larger boom concrete pump truck, because of its outriggers, just won't fit.
These trailer concrete pumps have steel and rubber concrete pump hoses that attach to an outlet on the concrete line pump. The concrete pump hose can range in diameter from 2 inches to 5 inches and are usually 10 feet long. The larger diameter hoses 3, 4, and 5 inch are typically used for pumping concrete and the 2 inch pump hose is mostly used for pumping grout and shotcrete.
The concrete pump hoses are connected together with concrete pump clamps reaching horizontal lengths from 20 to 1500 feet. The volume of concrete pumped through a line pump varies depending on the size of the line pump and the diameter of the concrete pump pipe, most can pump 30 cubic yards per hour but some outputs can be as high as 150 cubic yards per hour.
The smaller diameter pump hoses combined with a portable, small concrete trailer pump make pumping swimming pools, residential basement floors and hard to reach interior commercial floors much easier than using wheelbarrows or concrete buggies.
HOW CONCRETE LINE PUMPS WORK: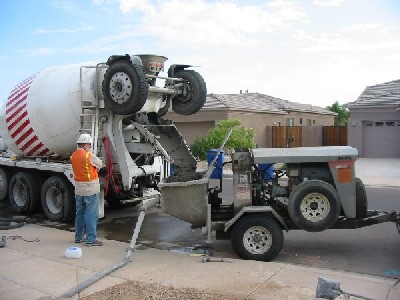 The concrete pumping process starts with the discharge of concrete from a ready mix truck into a hopper on the trailer pump. In the hopper an agitator keeps the fresh concrete flowing smoothly into the pumping cylinders.
Concrete piston pumps operate on the same principle as a twin cylinder reciprocating engine, where one cylinder draws concrete from the hopper on the return stroke and pushes the concrete on the forward stroke into the pump hoses.
Pistons in both cylinders operate in opposite directions so there is constant pressure on the concrete in the hoses and uninterrupted flow. The pistons are driven by hydraulic cylinders powered by a hydraulic pump.
A synchronized valve enables concrete from the two cylinders to go into one pump discharge hose. This valve is often used to distinguish one type of pump from another.
Some common valve types describing line pumps are gate valve, rock valve, swing valve, ball valve or C tube.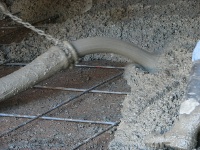 One of the main advantages of using a smaller, mobile concrete pump is reduced manual labor costs. The towable concrete pump does all the work of getting the concrete where you need it, you just have to level it.
In most cases the savings in time and manpower it takes to complete a pour with a trailer concrete pump will pay for the cost of the concrete pump rental.


---
Return from Concrete Line Pumps to Pumping Concrete
Return from Concrete Line Pumps to Everything About Concrete Home Page