What Is The Best 
Concrete Power Screed?
Over the past couple years I have found myself using and liking power screeds more when it comes to pouring concrete. It gets the job done quicker and more efficiently, and also doesn't hurt your back. I have found 2 power screeds that have been my favorite to use:
Below are two videos of me using each Power Screed
why should you use a power screed?
Doesn't hurt your back
Less labor
Get's the job done faster and more efficiently 
Little effort needed which helps conserve your energy
The vibration from the screed actually helps with dispersing aggregate and filling air pockets which will in return make the concrete slab stronger and more level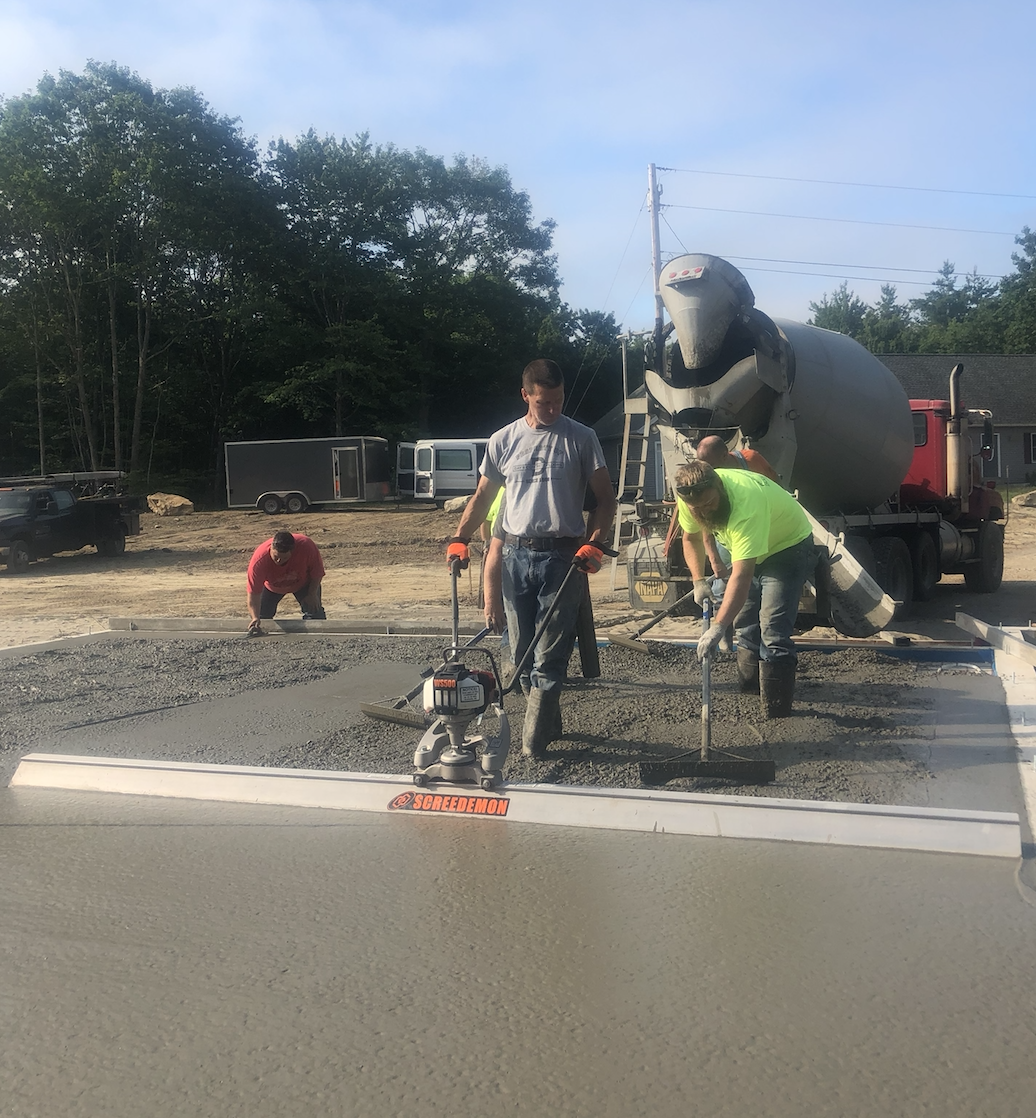 If you are deciding between the Shockwave Vibra-Screed and the SCREEDEMON, I will say the major difference between the two is the SCREEDEMON is lighter to carry around which is important when you are trying to walk around in the concrete.
power screeding vs kick screeding
The video below goes into detail about the pros and cons of Power Screeding vs. Kick Screeding
Why I like using a power screed
Any power screed you get for screeding concrete floors is going to vibrate and level the concrete. How good, or how well, this is done is a combination of how experienced the operator is and how comfortable the operator is running the power screed.
For me, having screeded and leveled thousands of square feet of concrete floors and slabs, I felt most comfortable operating the Shockwave and SCREEDEMON versus any other Brand of power screed I have used.
What I like most about these two Power Screeds is:
I can't really complain about anything. I really like this power screed. Some of the other ones I've used either vibrated too much in the handles, were too heavy, didn't have adjustable hand grips, and just didn't operate as smoothly.

If you're simply looking for a really good power screed, something you can use every day to screed your concrete floors and slabs, I would have to say, based on my experience, you can't go wrong with purchasing either the Shockwave Vibra-Screed or the SCREEDEMON.
How to use a power screed
Learning how to use a power screed at first may be a little intimidating, but once you get the technique down it is easy to use! Here are my tips and tricks:
Start the power screed right BEFORE you bring it over to use.
Make sure the handles are set in a position that is most comfortable to you. With both the Shockwave and the SCREEDEMON, you are able to adjust this easily.
Put the power screed about 1/2 to 3/4 throttle (the top of the blade needs to be off the concrete slightly so you are not digging into the concrete).
Pull the power screed back nice and slowly and watch your ends to make sure they are staying on the concrete, creating a line. If they are not touching the concrete, this can create a hump in the concrete which will not be fun to deal with later.
Let your rakers do most of the work- they need to make sure there is just the right amount of concrete being screeded (not too much or too little). They truly determine how level the concrete will be. With experienced rakers, the job will be easy!
This video below shows all the steps explained:
To learn even more about concrete, check out the CONCRETE UNDERGROUND
Thanks for stopping by,
Mike
If you decide to check out the Shockwave vibrating screed further and purchase it, you can save 10% off the purchase price if you use the coupon code: EAC when you check out.