What Is The Best 
Concrete Power Screed?
In my honest opinion, I think the Shockwave Power Screed from Marshalltown Company is the best concrete power screed.
I've used a lot of power screeds or vibrating screeds over the years, some I've liked and some not so much, for various reasons.
But after using the Shockwave vibra-screed, I was pretty impressed.
Some of the other manufactures of these power screeds had a good product, they just didn't operate as smoothly as the Shockwave did, in my opinion.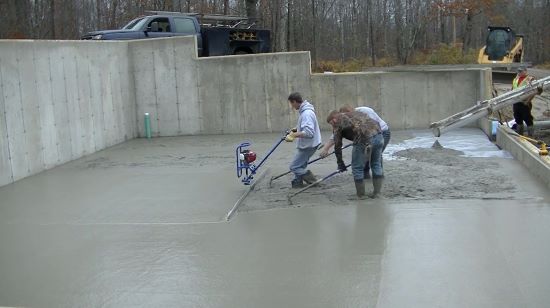 Shockwave Power Screed by Marshalltown Co.
Any power screed you get for screeding concrete floors is going to vibrate and level the concrete. How good, or how well, this is done is a combination of how experienced the operator is and how comfortable the operator is running the power screed.
For me, having screeded and leveled thousands of square feet of concrete floors and slabs, I felt most comfortable operating the Shockwave versus any other Brand of power screed I have used.
What I like most about the Shockwave is how little I feel the vibration in the handles when I increase the throttle.
This makes it very easy for me to focus on making sure the concrete is level and not thinking about the power screed.
I also like how smoothly the throttle moves to increase or decrease the vibration (RPM's).
The handles can be adjusted to whomever is operating for maximum comfort just by loosening a bolt and re-tightening.
The hand grips can also be adjusted for a wider or narrow grip.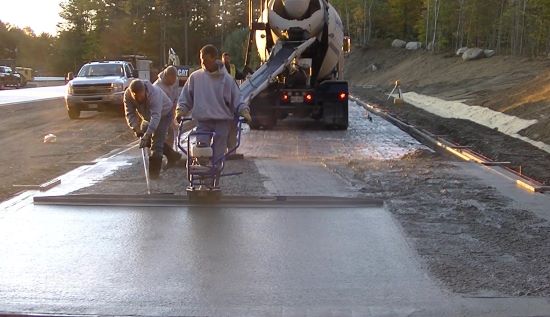 Screeding a 4400 SF concrete slab using the Shockwave
As far as just operating the Shockwave on a daily basis, I like where the On/Off button is located (it really can't accidentally be hit and break).
I like the kick-stand for holding it up when you're not using it. It's conveniently located and rugged. 
I really like the Honda motor, it usually always starts on the first or second pull.
Picking it up and setting it down on wet concrete and starting the screeding process is very easy. 
I like the "L" shaped screed board, it works good for leveling the concrete and is easy to clean when I'm done using it.
I can't really complain about anything. I really like this power screed. Some of the other ones I've used either vibrated too much in the handles, were too heavy, didn't have adjustable hand grips, and just didn't operate as smoothly.
Watch me screed concrete using the Shockwave!!
If you're simply looking for a really good power screed, something you can use every day to screed your concrete floors and slabs, I would have to say, based on my experience, you can't go wrong with the Shockwave Vibra-Screed.
If you decide to check out the Shockwave vibrating screed further and purchase it, you can save 10% off the purchase price if you use the coupon code: EAC when you check out.
---
If you liked this, please share.  Thanks!