Best garage floor paint
The best garage floor paint is a 2 - part Polyaspartic 85% solids concrete floor coating.
This type of garage floor coating isn't really considered a "paint" but it 's rolled on and applied to your garage floor in a very similar fashion.
A polyaspartic garage floor paint is much stronger and a lot more durable than a latex or acrylic concrete paint.
Polyaspartic coatings are even tougher and more chemical resistant than any of the epoxy floor paints.
watch me install the best paint for garage floors below:
TOOLS YOU'LL NEED:
Why i feel this is the best paint for a garage floor
I install garage floor coatings for a living in my business, Day's Concrete Floors, Inc.
I've been installing floor coatings for over 20 years and have seen all the "garage floor paints" that are available to consumers and labeled as THE BEST GARAGE FLOOR PAINT out there.
I can't even begin to tell you how many people call me and want me to come install a garage floor coating to their garage floor AFTER they've already painted their garage floor with an acrylic, latex or cheap epoxy paint.
In some cases it's a year later and in others it's only a few months after they've installed the garage floor paint that it starts peeling off the floor.
What happens in most cases is the "cheap paint" peels up under the hot tires first. So where they drive into the garage there's no paint left on the floor from the tires coming in and out of the garage.
When you drive into your garage with hot tires, the heat softens the acrylic, latex, and cheap epoxy paints, causing them to LIFT or PEEL off of the concrete.
A good quality 2 - part polyaspartic coating that's been installed correctly on properly prepared concrete will not peel, chip, or flake off the concrete, even under hot tires.
I wouldn't use them if they did or I'd be constantly getting call backs to come fix it.
When I'm hired to install a garage floor coating, I end up grinding off the paint others have used and installing our polyaspartic coating.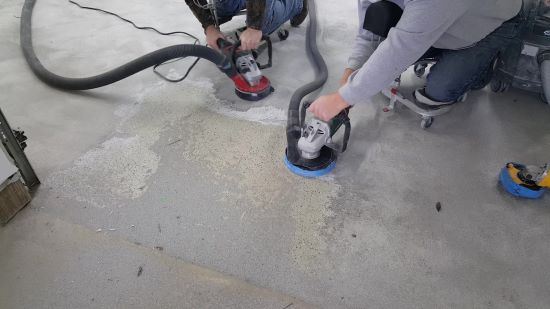 We're grinding off paint that was peeling off this garage floor.
Is garage floor epoxy any good?
There are some good garage floor epoxies that'll withstand hot tires and the normal abuse a floor gets in a garage.
The best type of epoxy for a garage floor would be a 100% solids 2 - part epoxy coating. 
I've used these on garage floors in the past with success, I can tell you from experience as an installer that the polyaspartic coatings are better.
Polyaspartics are more:
Scratch resistant
Chemical resistant
4X more abrasion resistant (less likely to chip if you drop something on it)
Don't yellow in direct sunlight (most epoxies do)
Color will not fade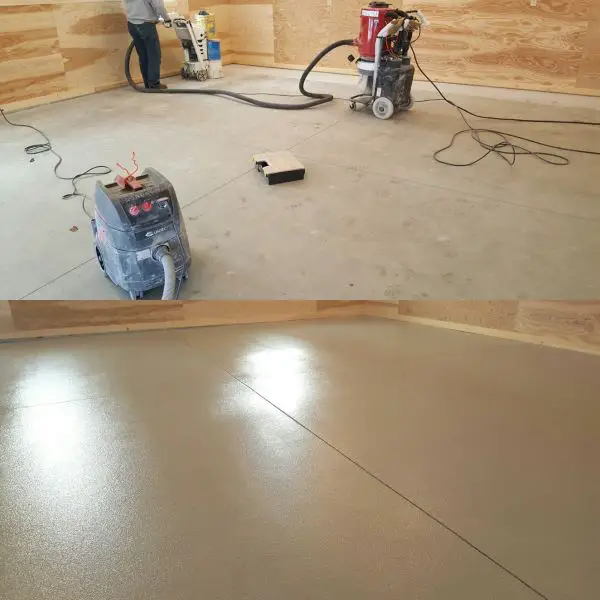 I'm installing a polyaspartic coating to this garage floor.
What is the best paint to use on a garage floor?
Like I said above, I use 2-part polyaspartics to paint my garage floors.
The two I use the most are:
EPOXY2U - Epoxy2U has a lot of garage floor epoxy coatings and garage floor polyaspartics. We use the Polyaspartic 85 as it allows us to install and finish the coating in one day. Most all the polyaspartic coatings I install have the flakes broadcast in them as well.
FLEXMAR POLYASPARTICS - Flexmar has a wide variety of garage floor coatings. From solid colors to flake floors, metallic coatings and quartz floors. They also have a "stain look" sealer and a "clear" sealer that are polyaspartics also.
The garage floor below was properly prepared by grinding the concrete, then we applied a colored base coat of polyaspartic and broadcast flake into it. 
To finish, we applied a clear coating of polyaspartic, all in the same day!
| | |
| --- | --- |
| Before | After |
Best garage floor paint reviews - beware!
Most of the "BEST GARAGE FLOOR PAINT" review pages I checked out on Google all mention the NAME BRAND epoxy paints, Latex, and Acrylic paints you can get at Home Depot, Lowes, Sherwin Williams, or other name brand stores.
BEWARE!! - Most of these pages are just written to get you to click on and buy the recommended paint they suggest. They have a "Top 10" list of best concrete paints and tell you the "pros & cons" of each paint.
Their goal is to get you to click and purchase the paint. If you do, they make a commission. 
The people writing these pages don't install or even use the paint they recommend. They just make money when you purchase the paint.
I actually install epoxy and polyaspartic coatings for a living. I'm not affiliated with, nor do I make any money if you purchase the products from Epoxy2U or Flexmar.
I just use and recommend their products because I feel they're the best and that's why I use them on my customers garage floors.
in conclusion:
Please don't waste your money or time on the Latex, Acrylic, 1-part epoxy, and 2-part epoxy paints you can get at your local Big box store or hardware store.
If you want your new concrete coating to last for years and not have to do "touch ups" every year, you'll want to use a high quality polyaspartic coating on your garage floor.
The two companies I recommend above have excellent products that are very user friendly. 
Yes, the initial cost will be more than the cheap paints but if you apply a polyaspartic coating to properly prepared concrete it'll last for many years without having to patch it or re-coat it.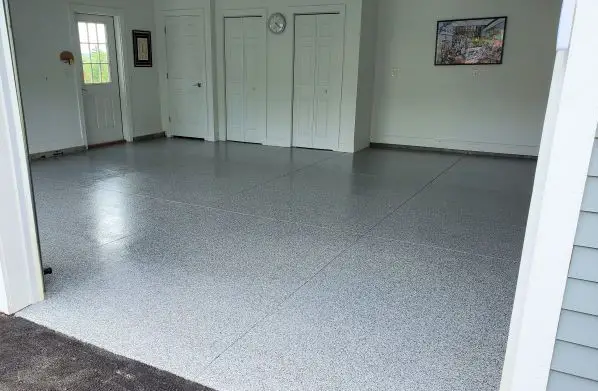 24' x 24' Garage floor painted with polyaspartic coating, flakes, and clear top coat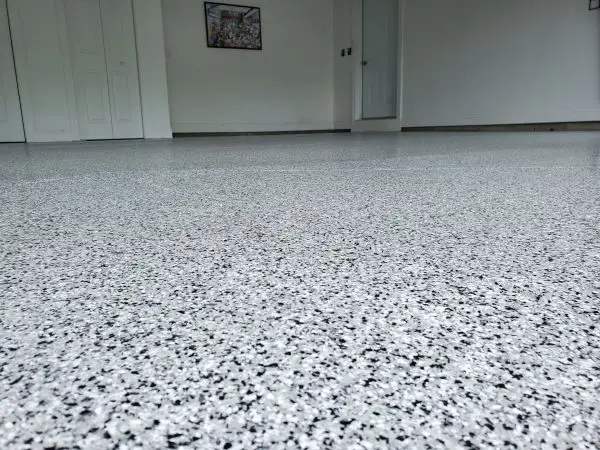 Close up view