Concrete Block Calculator
November 3, 2023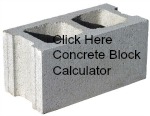 A concrete block calculator really helps when doing an estimate or a proposal for a concrete masonry wall.  The calculator will figure the amount of block and related materials fast and quite accurate.

Use this concrete calculator to estimate the amount of concrete blocks needed to complete a project.  For a given length and height it will give you the total block required.
Then from there the block calculator will figure; mortar bags needed for a specific block count, the amount of sand needed, the amount of block wall reinforcing needed, the cubic yardage required to fill the blocks and the amount of zonolite bags needed to fill the concrete blocks.
Cemex offers this cement block calculator, clicking on it will bring you to their website.
Concrete.com has this concrete block volume calculator that figures the amount of concrete needed to fill the blocks.
Here is how you can calculate the amount of block needed the old fashioned way using a pencil and paper:
How to calculate concrete blocks needed:

3 Bags Mortar per 100 Block (35 Block per Bag)
1000 Ib. Sand per 100 Block
1.125 Block per sq.ft. of Wall Area
75% of Wall Length give Block per Course
Number of Courses = 1.5 X Height of wall
It's great we have all the technology to calculate, figure and make estimating concrete and block walls easier but sometimes it's still good to figure block materials on paper to double check yourself, just because the calculator says so, doesn't mean you could have punched in the wrong number somewhere.

Here's a calculator from Amazon you can use to calculate concrete blocks. You can keep this in your truck, on the jobsite, or in your office.

---
Return from concrete block calculator to concrete calculator