Concrete Countertop Cost
How much does a concrete countertop cost?
Concrete countertop cost will vary in price among the many different contractors who build them. I'll give you the perspective from one, my friend, Jon Meade of Jon Meade Design has been building and installing concrete countertops for 11 years. He's built many kinds of concrete countertops from plain gray with a polished finish to highly decorative with special stone, glass or metal embedded into the surface and polished to a gloss finish.
Although each concrete countertop he builds is unique, the average cost of a concrete countertop he builds is $100.00 dollars per square foot.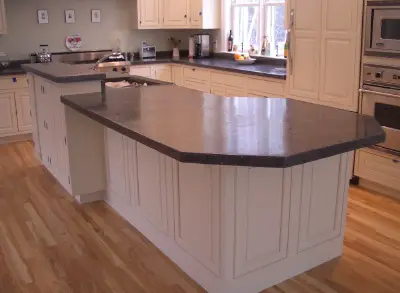 What's included in a basic concrete countertop price?
1. His own high strength mix design
2. Rebar, mesh, and fiber reenforcement
3. 2 - 3 inch thick countertop
4. Countertop precast in his own shop
5. Concrete stain if a color is desired
6. Densifier/Hardener for the concrete
7. Polished up to a 3000 grit finish
8. Delivery & installation
9. A complete understanding of how to care for the concrete countertop and what to avoid putting on it.

If you're comparing costs between concrete countertops and granite, marble, or corian, you're not really comparing apples to apples. Concrete
countertops are hand crafted every step of the way. The forms are made by hand, the mix is poured and leveled by hand, the concrete is colored, finished, and polished by hand. You just don't get that kind of unique quality from any other type of material.

Try incorporating a drain board into granite or embedding decorative glass, sea shells, or stones you found at the beach into marble or achieving the translucent effects of concrete stain on corian, you just can't get the same desirable looks that you can by using concrete for your countertop.

So the question is, is the concrete countertop cost of $100.00 dollars per square foot a lot of money or is it a bargain? I think it's a bargain.
As you get quotes for concrete countertop prices, make sure the estimate is hand written in proposal or contract form and very detailed as to what is included in the price and what is not.

If you're trying to decide how to choose a concrete countertop contractor, look for one who will educate you about how the concrete will perform as a countertop. He/She should be very clear about the durability, maintainence, what to avoid, and how a problem would be fixed. They should make you feel confident you've chosen the right person to build your concrete countertop, remember, this will last a lifetime.

---
Return from concrete countertop cost to concrete cost
Return from concrete countertop_cost to
Everything About Concrete Home Page

---
If you liked this, please share.  Thanks!