Concrete Vapor Barrier Thickness

November 3, 2023

Which concrete vapor barrier thickness is best at blocking moisture vapor transmission from coming up through a concrete floor or slab?

The correct thickness of concrete vapor barriers being placed under concrete slabs and floors has been debated for many years. It used to be 4 mil thick and 6 mil thick polyethelene sheeting was sufficient, but not anymore. The thickness and material these vapor barriers are made of are sub-standard to the newer, thicker, 10 mil and 15 mil vapor barriers.

The 10 and 15 mil thick concrete floor vapor barriers are made of high quality, virgin, polyolefin resins and additives that cross-link to provide a
homogenous membrane with the same permeance and puncture resistance throughout the entire sheet. The older 4 and 6 mil thick poly vapor barriers are made of recycled materials and lower grade resins that will break down over time allowing moisture to pass through the slab.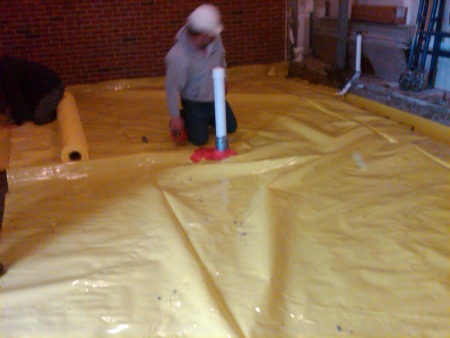 For most residential applications the 10 mil under slab vapor barrier will offer enough protection against moisture vapor transmission coming up
through the concrete floor, allowing for flooring materials to be successfully installed on top of the concrete.

For most commercial applications the 15 mil thick concrete vapor barrier will be a better choice. It will hold up better to job-site traffic, is
more puncture resistant, and a better all around product for the money.

The concrete vapor barrier we use the most is Stego Wrap's 15 mil thick vapor barrier. It comes in a roll 14 feet by 140 feet. The 15 mil thickness of this vapor barrier won't easily tear, split, or puncture allowing us to go about our work without having to repair holes while we are pouring the concrete.

The added 5 mil thickness over the 10 mil vapor barrier means if the vapor barrier is installed properly, virtually zero water vapor will penetrate the slab from the soil below.
---
Return from Concrete vapor barrier thickness to Concrete vapor barrier
Return from Concrete vapor barrier thickness to Everything About Concrete Home Page