EPOXY FLOOR COVERING PAINT
November 3, 2023

What is the best epoxy floor covering paint to use on your concrete floor?
That can seem like a difficult question to answer when you start looking at all the concrete epoxy floor paints on the market.
With all the water based, solvent based, and solids based epoxy floor paints to choose from, how do you know which one is the best.
In my opinion a 100% solids based epoxy floor covering paint is the best epoxy paint to use on concrete floors.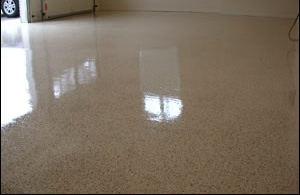 100% solids concrete epoxy floor paint is a term used to describe the volume of solids in an epoxy floor paint system. It's what is left over after the epoxy paint dries. A 100% solids epoxy will yield 100% dried material after the epoxy paint fully dries.
A 50% solids epoxy will yield 50% of the thickness after the epoxy floor paint dries. Most epoxy paint is 30% - 40% volume solids. That means you would need 2 1/2 times the gallons to equal 1 gallon of a 100% solids epoxy.
A 100% solids epoxy concrete floor paint, after it dries and fully cures, is harder than the concrete it is applied on. One coat of 100% solids epoxy is about five times thicker than one coat of a water based epoxy. It's also about ten times more durable.
These high quality epoxy flooring systems are very resistant to hot tire marks, oil, salt, chemicals, and abrasives. They clean easily with a mild detergent and water, and they are easy to apply.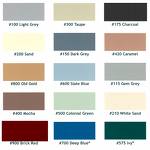 After the proper concrete surface preparation, most floors will only need one coat of a 100% solids epoxy paint. Most other water and solvent based epoxies need multiple coats, and many more gallons of paint, to achieve the same thickness (mils).
High solids epoxies come in many decorative colors and you can also add flake chips to give the floor a quartz or granite appearance.
They take about 18 - 24 hours to dry for foot traffic, and 72 hours for vehicle traffic. I would look for one that has no odor, is USDA approved, and has 0% VOC's (volatile organic compounds).
The manufacturer should offer at least a 20 year guarantee and a lifetime guarantee is even better. That shows they have the confidence in their product to withstand the abuse a concrete garage floor will take over many years.
The surface preparation will be very important for proper adhesion to the concrete floor. If that is done correctly, applying the epoxy floor paint will seem like the easiest part of the job.
If you are looking for the best epoxy floor paint for your concrete floor, I would recommend the 100% solids epoxy. It will cost a little more per gallon, but a lot less per mil (thickness of the paint) and give you a long lasting, durable, decorative coating you can enjoy for years.
When you need to get your concrete floor back in less than one day and be driving on it in 24 hours click on GARAGE FLOOR PROTECTOR to read about polyaspartic polyureas, another excellent very fast drying concrete floor paint.
Click on CLEANING GARAGE FLOORS for tips on the proper concrete surface preparation before applying an epoxy floor covering paint.
---
Return from Epoxy Floor Covering to Concrete Floor Coating
Return from Epoxy Floor Covering to Everything About Concrete Home Page