How To Fix Cracks
in concrete floors, driveways, patios, and slabs.
November 3, 2023

This page will teach you how to fix cracks in concrete floors, slabs, patios, and concrete driveways.
Let's face it, cracks in concrete floors are quite common. But, knowing how to repair a concrete crack isn't common knowledge. 
Until now!
I'm going to share with you my easy step by step guide for fixing cracks in concrete. This guide will work for all types of concrete flat-work (floors, slabs, driveways, patios, and pool decks).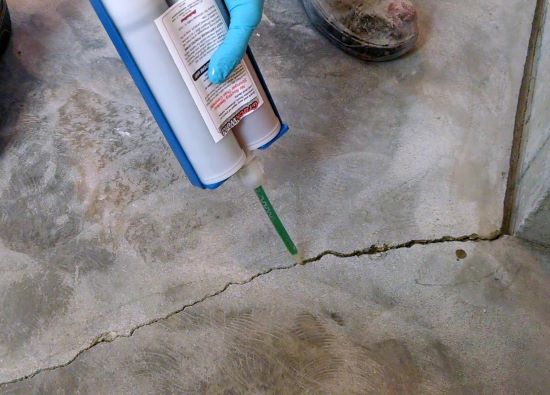 Step 2 - Prime the crack with CrackWeld first
What you'll need for tools
Here's a list of the tools you'll need to fix your cracked concrete.
Shop-Vac
Putty knife (1 or 2 inch wide will do)
1 Quart measuring cup
Single tube caulking gun
4" Hand grinder (what I recommend using) or
Concrete rubbing stone (rather use the grinder) or
Palm sander with 60 grit paper (again, i'd rather use the grinder)
You'll need a way to smooth out the repair material once it is dry. I prefer the 4" hand grinder with a diamond cup wheel. 
You can use a rubbing stone or a palm sander if you want, it's just not as fast and takes a little more effort to smooth out the repair material with these tools.
What to use for a crack repair kit
When I repair cracks in concrete like the one in the picture above, I always use CrackWeld Concrete Floor Repair Kits from RadonSeal.
I buy the PRO KIT Duel Cartridge's because my company, Day's Concrete Floors, Inc specializes in concrete crack repair.
If you buy the PRO KIT, it comes with that duel cartridge caulking gun. If you buy the diy CrackWeld kit, you use your own caulking gun and use a single cartridge at a time. 
You use the same methods and same techniques with each kit to produce the same results.
What is CrackWeld?
CrackWeld is a 2-part polyurea repair material. When you eject the material out of the cartridge and through the mixing nozzle into the crack, it quickly reacts and cures rock hard.
You don't need to widen or "chase out" the crack. The repair material bonds with the sand to form a "concrete like" mass inside cracks, spalls, and holes.
Water, vapor, or other liquids and gases can not penetrate it. It's also considered a structural repair material, it will stop a crack from any further movement.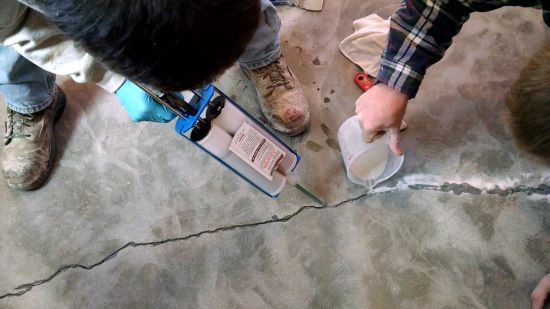 Step 3 - Pour silica sand into the crack and add more CrackWeld to it.
How many cracks can I fix with a kit
Assuming the concrete floor thickness is 4 inches:
If the crack is 1/16 inch wide:
diy CrackWeld kit will repair 50 lineal feet
Pro CrackWeld kit will repair 100 lineal feet
If the crack is 1/8 inch wide:
diy CrackWeld kit will repair 25 lineal feet
Pro CrackWeld kit will repair 50 lineal feet
If the crack is 1/4 inch wide:
diy CrackWeld kit will repair 12.5 lineal feet

Pro CrackWeld kit will repair 25 lineal feet
How to fix you're cracked concrete floor
IMPORTANT: The inside of the crack must be clean and dry!
Vacuum out the crack to remove any dirt, debris, and loose concrete.
Inject the CrackWeld resin into the crack to "prime" the crack and wet the inside edges of the crack.
Put the dry silica sand (included in the kit) into the 1 Qt. measuring cup and pour the sand over the crack, pushing the sand into the crack with the putty knife.
Squirt some more CrackWeld resin over the top of the sand (enough to make a paste with the putty knife) and continue to push into the crack until the crack is slightly over filled.
 I like to wait about 20 minutes and grind the hardened CrackWeld repair smooth and even with the concrete floor, using a 4 inch electric hand grinder with a diamond cup wheel.
If you don't want to use a diamond grinder:
Scrape off most of the excess repair material after about 10 minutes, using the putty knife.

Then, after another 10 minutes, use the concrete rubbing stone or the palm sander to smoothen the repair material even with the concrete floor.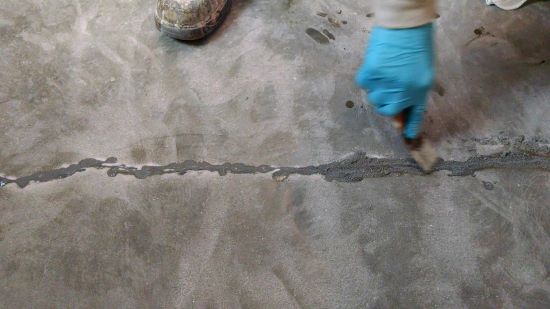 Step 4 - Making a paste with the putty knife and forcing it into the crack
If you want printable instructions and the cartridge assembly guide
Here's a PDF guide for the DIY Concrete Floor Repair Kit.
You can Download the installation instructions and cartridge assembly guide.
This guide shows you how to put the cartridge, backflow restrictor, and mixing nozzle together. (these instructions come with the kit also)
It also has the basic instructions for repairing a crack.
I would definitely recommend watching the video. You know what they say, if a picture is worth a thousand words a video must be worth a million.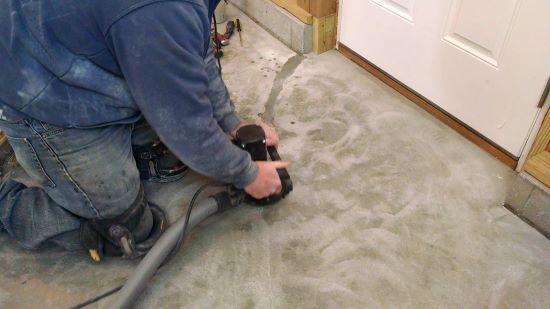 Step 5 - Grind off the excess repair material or scrape and sand it off
WATCH THE VIDEO:
How to fix cracks in concrete - Using CrackWeld's Pro repair kit
What if it's just a hairline crack?
If you're concrete floor has a hairline crack, you won't need the sand to repair this one.
Just make two passes with the CrackWeld resin and that should be enough to fill and repair the crack.
Use the putty knife to push any excess resin into the crack if you need to.
After about 20 minutes, sand the excess resin off the floor.
What if the crack is larger than 1/4 inch wide
When I fix a crack in concrete that's larger than 1/4 inch wide: After I vacuum out the crack, I always pour some dry silica sand into the crack first, filling the crack to about 1/8 inch below the surface of the floor.
This keeps the CrackWeld resin from just running out of the bottom of the crack. Then follow the instructions in the guide above starting with step 2.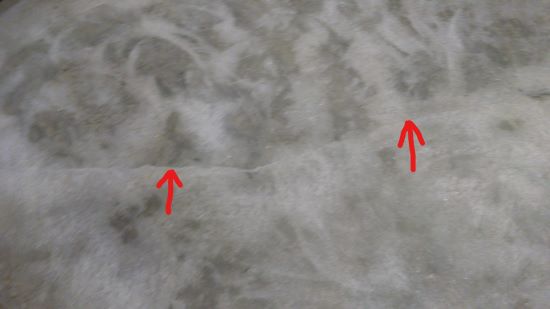 Repaired crack after grinding with a 4" grinder
Can I use CrackWeld to fix concrete spalling and small holes?
YES, to fix spalled concrete:
Clean and remove any loose concrete
Flood the spalled concrete area with the CrackWeld material
Immediately broadcast silica sand into the repair material (a light broadcast of sand, not too much) and let dry completely
When dry, grind or sand smooth
YES, to fill holes and chipped areas of concrete
Clean the area and make sure it is dry
Squirt some CrackWeld into a mixing cup and add silica sand
Use a paint stick and mix into a "peanut butter consistency" like paste (use as much sand as you need to)
Fill the hole or chipped area using a putty knife and the repair paste.
Only mix small amounts at a time, you will only have about 5 - 10 minutes of working time.
Where else can I use this crack repair kit
CrackWeld concrete crack repair can be used for:
Industrial and Commercial concrete floors

Heavy vehicle garage floors

Parking Garages

Concrete Patios

Basement Floors

Factory Floors

Freezer Floors

Concrete Driveways

Residential Floors

Concrete Overlays
Can I paint over the crack after it's repaired?
YES, after you grind or sand the crack repair material smooth, you can paint, epoxy, or use a concrete overlay material over it.
Can I use CrackWeld to fill expansion joints
NO, CrackWeld is a rigid crack repair material. It dries very hard. Do not use it to repair expansion joints or floor to wall joints. It's not for joints that require some sort of flexibility.
For repairing joints that require flexibility you can use RadonSeal's Elastipoxy Joint and Gap Filler Kit.
Can I use CrackWeld to fix cracks in concrete that might still have movement
If you live in an area where you have freeze/thaw cycles and you have exterior concrete with some cracks you want to repair:
Like in a concrete driveway, pool deck, or patio.
Then I recommend you use Elastipoxy to repair the cracked concrete.
Elastipoxy will allow for some movement of the concrete (it dries flexible) without breaking down.
It's a very strong 2-component, 100% solids, flexible, AND self-leveling crack repair product. (making it easy to install)
Why shouldn't I use a "big box store" concrete crack repair product?
Unlike some of the "big box stores", 
CrackWeld has some very good advantages: "This is why I use it"
DRIES STRONGER THAN THE CONCRETE

- It bonds or welds the concrete back together.

VERY FAST CURING

- Dries in 15 - 20 minutes so you have very little down time.

NO CHASING OR ROUTING NEEDED

- You don't have to grind or chisel the crack open

FILLS HAIRLINE CRACKS EASY

- Water like viscosity, it self levels and comes with a needle nozzle for precision accuracy.

CURES BELOW FREEZING

- You can repair cracks in below freezing temperatures
"There's absolutely no comparison, don't waste your money on the "big box" store's crack repair products. Take it from a pro, RadonSeal's CrackWeld will get the job done as advertised."
Mike Day
Owner of Day's Concrete Floors, Inc.
YES I want the diy CrackWeld repair kit. (You'll go to RadonSeal's page)
YES I want the CrackWeld PRO kit. (You'll go to RadonSeal's page)
Return to Epoxy Concrete Repair