my top 11 tips for pressure washing concrete:
plus 4 bonus tips most people don't think about!
November 3, 2023

Pressure washing is a highly effective way to clean various surfaces, including concrete. However, cleaning your concrete surface with a pressure washer can be a tricky task.
Not using the proper pressure washer, techniques, and nozzles can lead to damage or discoloration of the concrete surface.
In this guide, I'll tell you my top 11 tips for pressure washing concrete, (plus 4 bonus tips) including the proper techniques, accessories, and precautions to ensure a successful cleaning job.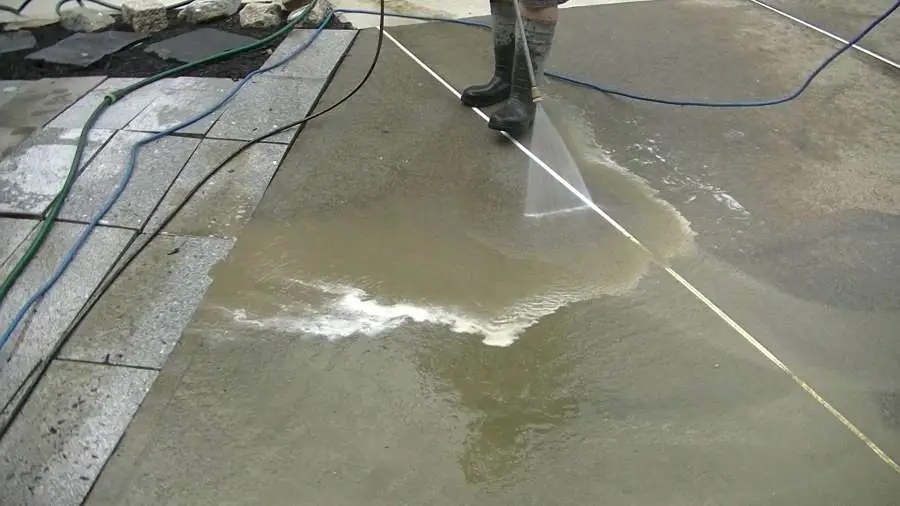 tip #1: prepare the surface
Before you start pressure washing, you need to prepare the surface. Begin by removing any debris or loose dirt from the surface. I like to use a leaf blower for this, it's fast and easily removes all the leaves, twigs, and loose dirt from the surface.
If there are any oil or grease stains, you will need to spot treat those using a degreaser to help remove them. Once the surface is clean, you can begin pressure washing.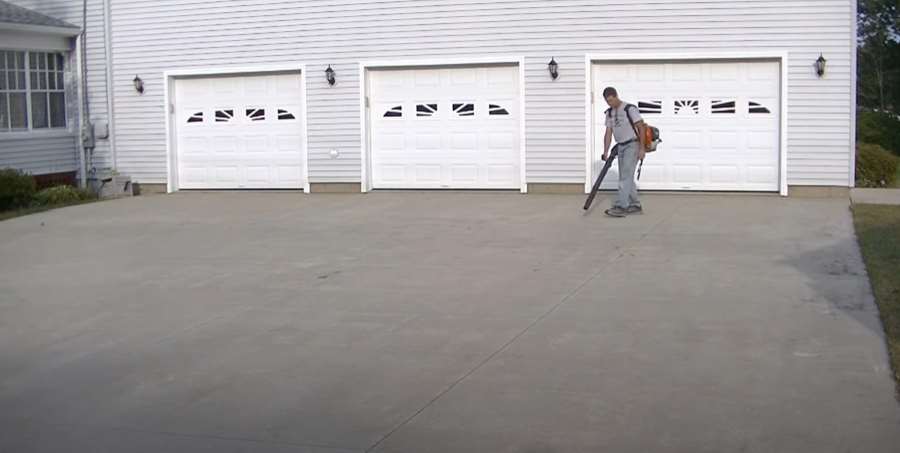 tip #2: choose the right pressure washer for the job
Choosing the right pressure washer is crucial for successful concrete cleaning. A larger surface area will require a high-pressure washer with a powerful engine, while a smaller surface can be cleaned with a smaller-pressure washer.
It's important to select a pressure washer with adjustable pressure settings to suit the surface you are cleaning.
The power output of a pressure washer is measured in PSI, ranging between 1000-5000. For concrete cleaning, a 3100 PSI pressure washer is ideal.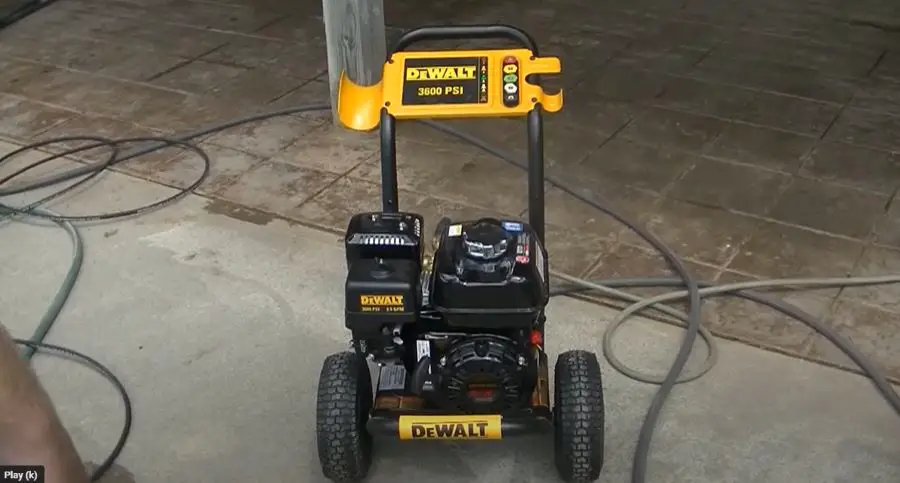 Professionals tend to use the higher range of PSI, while households generally use lower PSI pressure washers. Gas-powered pressure washers deliver more power, while electric pressure washers require less maintenance. An electric pressure washer can still do the job, but it will require more time and effort.
In summary, the size of the surface being cleaned and the PSI output of the pressure washer are important factors to consider when selecting the right pressure washer for concrete cleaning.
Adjustable pressure settings are also necessary to ensure that the pressure washer can adapt to the specific cleaning needs of the surface.
Gas-powered pressure washers offer more power, while electric pressure washers are lower maintenance but require more time and effort to complete the cleaning job
tip #3: use the right degree nozzle for cleaning concrete
Choosing the right nozzle for cleaning your concrete is crucial for achieving optimal results.
Using the correct nozzle can help prevent damage to the concrete surface while ensuring effective cleaning.
A fan nozzle is the best option for cleaning concrete, as it provides a wider spray pattern that can cover a larger area at once. The wider spray pattern also distributes the water pressure evenly, reducing the risk of etching or pitting on the surface.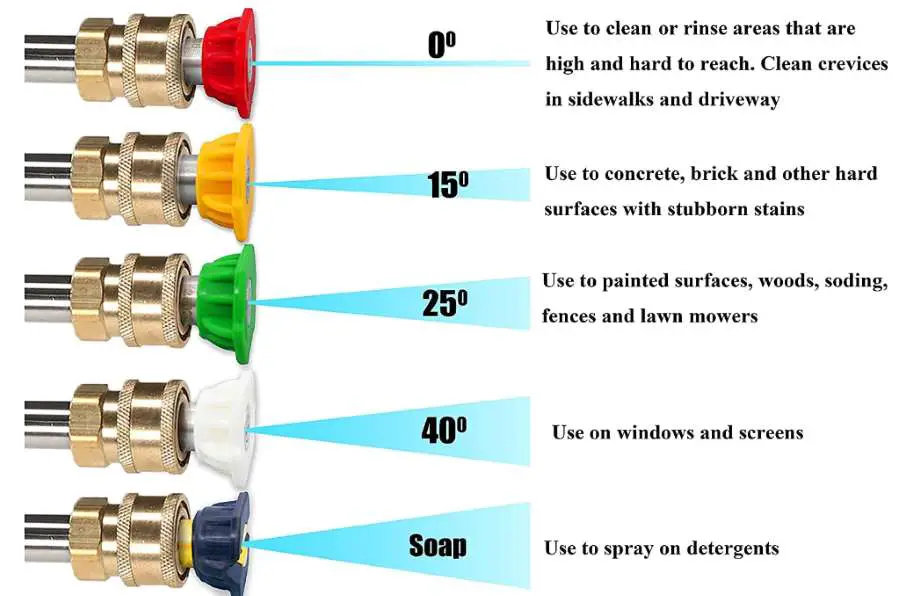 Know your nozzles
Pressure washers typically come with five types of nozzles, each with a different degree of spray angle: 0° (red nozzle), 15° (yellow nozzle), 25° (green nozzle), 40° (white nozzle), and 65° (black nozzle).
The smaller the degree number, the stronger the water stream will be. It's important to use the appropriate nozzle for the cleaning application.
For instance,
tip #4: power washing accessories to consider
a surface cleaner attachment: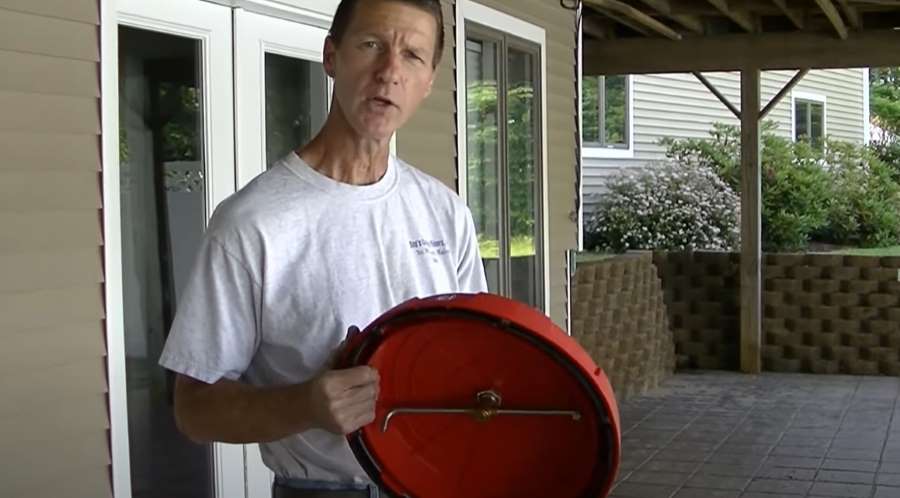 a rotary nozzle: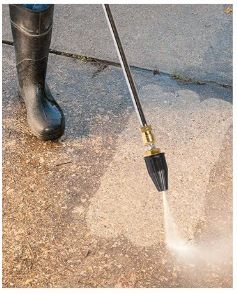 also known as a turbo nozzle, is a specialized power wash nozzle that combines the power of a 0° nozzle with the wider spray pattern of a fan nozzle. 
It produces a spinning, cone-shaped water jet that increases the cleaning power and speed, making it an excellent choice for removing stubborn stains like oil and grease on concrete surfaces. 
However, it should be used with caution as it can cause damage to the concrete surface if not used properly.
a soaping nozzle:
tip #5: be careful not to damage your concrete
It's important to understand that pressure washing concrete can cause irreversible damage, especially when getting the tip of the wand too close to the surface. (a good reason to use the surface cleaner)
When you power wash, if you point the stream at a single spot for too long it could result in removing some of the top layer of concrete, so it's essential to keep your movements swift and move the wand in a back-and-forth action.
Another common mistake is getting the tip of the wand too close to the surface. To avoid damage, it's best to keep a distance of at least 16" (40cm) to two feet (60 cm) from the concrete.
Maintaining the correct distance between the power washing tip, and the concrete is crucial to prevent damage, discoloration, or even permanent etching.
tip #6: work in sections
For larger areas like a concrete driveway, it's better to work in sections when you pressure wash. This will help ensure that you clean the entire area and avoid missing any spots.
Start by spraying a small section with water to moisten the surface, then apply a cleaning solution and let it sit for a few minutes before power washing and rinsing it off. Move on to the next section and repeat the process until the entire surface looks like clean concrete.
tip #7: what's the best cleaning solution for concrete
Using the right detergent is crucial when pressure washing concrete. Some cleaners/degreasers are specially formulated for cleaning concrete, while others are not.
Be sure to read the label carefully to ensure that you are using the right detergent for your specific needs. Avoid using bleach or any acidic cleaner as it can damage the concrete surface.
These cleaners and degreasers are some of the best options for cleaning concrete surfaces, depending on the specific cleaning needs.
TSP is a powerful cleaner for heavily soiled surfaces, Simple Green is an environmentally friendly option, Krud Kutter is a heavy-duty option for tough stains, Oil Eater is ideal for automotive cleaning, and Zep Heavy-Duty Citrus Degreaser is a good choice for industrial cleaning applications.
tip #8: be careful when power washing cracks & joints
When you pressure wash your concrete, it is important to pay close attention to cracks and joints. High-pressure water can cause these areas to deteriorate, which can result in expensive repairs.
Be sure to avoid any high-pressure spraying directly into the cracks or joints, and use a lower pressure water flow when cleaning these areas.
Learn how to fix cracks in The Concrete Underground.
tip #9: rinse your concrete thoroughly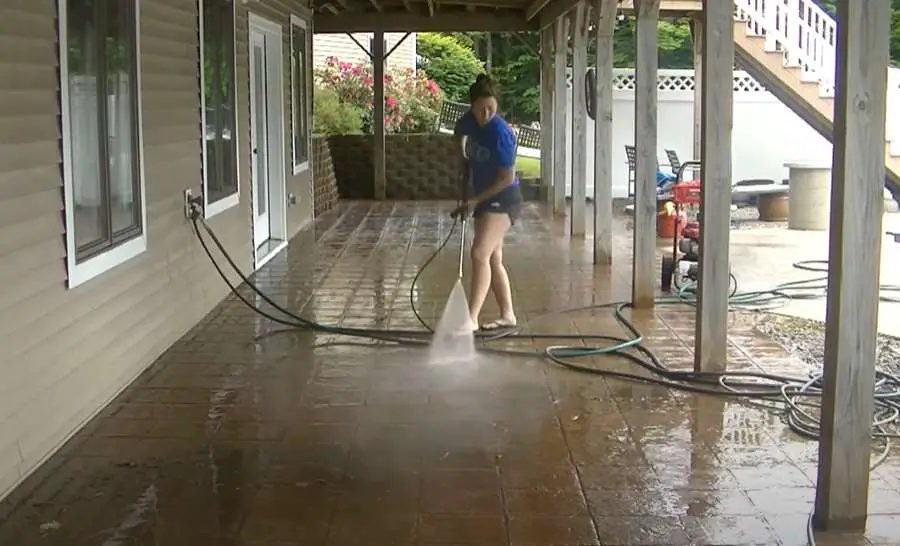 After you have cleaned the surface, be sure to rinse it thoroughly with clean water. Personally, I like using my garden hose for the final rinse.
This will help remove any leftover detergent or debris and prevent streaking. Be sure to rinse from the top down to avoid dirty water running onto a clean surface.
tip #10: protect surrounding areas from overspray
When pressure washing concrete, it is important to protect surrounding areas from the high-pressure water spray.
The powerful stream of water will ricochet off the concrete and overspray onto everything that's close by.
Cover nearby plants, electrical outlets, and other objects with plastic sheeting or drop cloths to prevent spraying dirty water on them and possibly causing damage.
tip #11: safety cautions to consider
Finally, it's important to take safety precautions when power washing concrete. This includes wearing appropriate protective gear such as safety glasses, ear plugs, gloves, and non-slip waterproof boots.
Also, Be careful when standing on smooth, wet concrete as it can be slippery and cause accidents.
Additionally, be cautious when you pressure wash near electrical outlets and power sources. Any overspray can trip the circuit breaker without you even knowing or possibly cause a short which could start an electrical fire.
4 more bonus tips to think about
Here are four more important tips to think about when you pressure-wash concrete:
Test the Power Washer on a Small Area: Before starting the cleaning job, test the pressure washer on a small, inconspicuous area of the concrete surface. This will help you determine the appropriate pressure setting and prevent any damage to the surface.
Avoid Pressure Washing Newly Poured Concrete: If the concrete surface is newly poured, it is important to wait at least 28 days before pressure washing it. This will allow the concrete to fully cure and avoid any damage to the surface.
Use Hot Water for Tough Stains: Hot water can be more effective than cold water for removing tough oil stains and grease. If you are dealing with stubborn stains, consider using a hot water pressure washer.
Clean Gutters and Downspouts Before Pressure Washing: If your concrete driveway or patio is near gutters and downspouts, it is important to clean them out before you pressure wash. This will prevent dirty and stained water from the gutter, flowing onto the driveway and staining the concrete.
Go To How To Clean Concrete