CONCRETE POLISHING MAINTENANCE TIPS
November 3, 2023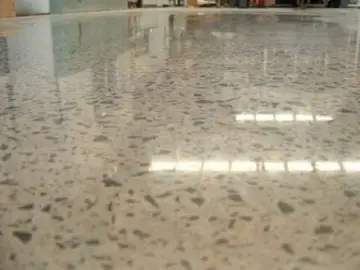 The time required for concrete polishing maintenance is one of the leading reasons why commercial and industrial building owners choose a polished concrete floor.
The maintenance required to keep a polished concrete floor shining like new is minimal compared to carpet, wood, tile, and other popular flooring types.
Unlike other flooring surfaces that require a coating or wax to maintain their shine, polished concrete has no coating to maintain.
Just dust mop, vacuum or sweep to clean dirt and loose debris, then wet mop to restore the like new shine.
If the floor is very large an auto scrubber with some acid free cleaner can be used to speed up cleaning time.

A polished concrete floor may last up to 15 years before having to be touched up. A light repolishing with a fine grit abrasive is usually all that is needed.
Due to the concrete pores being closed up during the polishing process a properly hardened, densified, and polished floor will resist hot tire marks and spills will tend to stay on the surface giving you more time to clean them up.
If you're looking for a beautiful decorative concrete floor that requires very little maintenance, a polished concrete floor would be a great choice for your home or business.
Read more about polished concrete below:
POLISHED CONCRETE DESIGN OPTIONS


---
Return from Concrete Polishing Maintenance to Polished Concrete Flooring
Return from Concrete Polishing Maintenance to Everything About Concrete Home Page