CUSTOM GARAGE FLOORS
Custom garage floors can be created with many different garage flooring materials. The designs and colors to choose from are limited only by your creativity.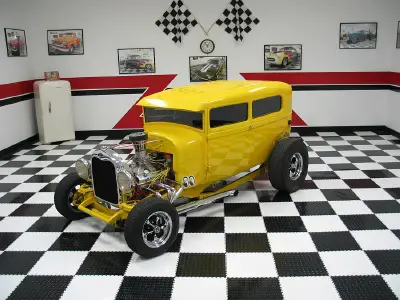 Having a custom garage floor will transform your garage from a place to store all your "stuff" to an extension of your home. The garage can now be used as a play area, hobby area, office space, or a place to just hang out.
But what can you use for garage flooring to make it the ultimate garage floor. I'll cover some very popular custom garage flooring materials so you can decide which one will look the best to you.
POLISHED CONCRETE FLOORING - Polished concrete makes a great decorative garage floor. It can be polished to a mirror finish and you can add concrete dye or acid stain to really create some custom looks.
CONCRETE ACID STAIN - Acid staining gives you an array of colors to choose from. The color is unique to each floor and creates a mottled look. If you score designs in the concrete, with a saw & diamond blade, that are diamond shaped or tile shaped you could use multiple colors on different areas for the ultimate garage floor design.
GARAGE FLOOR TILES - Interlocking garage floor tiles come in many standard colors and designs. You can also have custom colors made by some manufactures. Multiple colors can be used together to create some very different custom garage floors. These tiles are very durable and easy to install. This kind of flooring is something that can easily be done by yourself.
GARAGE FLOOR MATS - Mats roll out onto the surface of the garage floor. They come in a variety of colors and designs. The widths and lengths vary so you can fit them to the size of your garage. Garage mats are easy to clean and maintain. These can also be easily installed by yourself.
GARAGE FLOOR EPOXY - Epoxy paint is a terrific garage flooring material. Colored chips can be broadcast into the epoxy for a very decorative look. Terrazzo and granite looking floors are two popular effects easily achieved with epoxy paint. Multiple colors can be used together to create some great designs. When epoxy is installed correctly it will last for many years with very little maintenance required.
GARAGE FLOOR PROTECTOR - Polyaspartic polyureas are similar to epoxies but are made from a different material. They dry very quickly allowing you to get back on your garage floor the next day. There are a lot of colors to choose from and the topcoat will give you a mirror like shine. When this material dries it's harder than the concrete it's applied on. Creating designs using different colors is limited only to your imagination.
Designer garage floors can be fun to create with all the materials described here. They're all excellent products, deciding which one to use could be difficult. For a more detailed description of each product click on its link.
Having the "ultimate garage floor" will increase the value of your home, be fun to show off, and make you the envy of your neighbors.


---
Return from Custom Garage Floors to Garage Floor
Return from Custom Garage Floors to Everything About Concrete Home Page