GARAGE FLOOR TILES
| | | |
| --- | --- | --- |
| Red and gray tiles | Blue garage tiles | Black and white tiles |
Garage floor tiles can help protect a new concrete floor or cover up and enhance an old, cracked, and stained garage floor.
But how do you choose the best interlocking floor tile for your garage floor. There are so many different brands to choose from.
The material the floor tiles are made of and the way they lock together are two key factors to look at when considering garage tiles for your flooring. A higher quality floor tile will last for many more years than a lower quality one will.
I'll cover some of the qualities you should be looking for in a high quality garage floor tile so when you decide to buy, you'll be confident you made the right choice.
The better quality floor tiles are made of premium quality PVC material. When you pick them up they will feel heavier than the lower quality mats. They will be very flexible, more durable, quieter, and provide more comfort under your feet.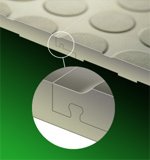 The best floor tiles have an interlocking edge that overlaps and taps into place. The overlapping technology keeps the seems very tight and at the same height.
This is especially important when your installing over a garage floor that is chipped and kind of rough.
A good floor tile should be able to be removed or replaced without having to damage or disturb the garage tiles next to it.
The best garage tiles don't need an adhesive to stay in place and won't shift when rolling a heavy load over them.
They are resistant to most solvents, chemicals, and moisture, and are very easy to clean & maintain.
Most garage tiles come in a variety of standard colors; black, blue, gray, yellow, red, green, and brown. Additional colors and color matching are also available with some manufactures.
There are many styles and finishes to choose from; wood, stone, slate, coin, ribbed, and smooth are just a few.
| | | | | |
| --- | --- | --- | --- | --- |
| Slate | Levant | Coin | Wood | Smooth |
Garage flooring tiles are highly slip resistant and help reduce dust, keeping your vehicles and equipment cleaner.
The size varies depending on the style of tile you choose. Most garage tiles are 18" or 20" square, and 1/4 -3/8 inches thick.
If you're looking for a high quality garage floor covering that you can install yourself and will give you many different design options to choose from, then a garage floor interlocking tile would be a great choice.
For information on other garage floor related topics click on the links below.
HOW TO PAINT GARAGE FLOOR COATINGS
EPOXY GARAGE FLOOR COATING PREPARATION
GARAGE FLOOR PAINT BEST VS WORST
---
Return from Garage Floor Tiles to Garage Floor
Return from Garage Floor Tiles to Everything About Concrete Home Page