GARAGE FLOOR COVERINGS
November 3, 2023

Garage floor coverings like roll on mats, decorative interlocking tiles, epoxy paints, and polyaspartic polyureas add style and value to your garage floor.
Not only do they look great, they are easy to clean, come in many different colors and designs, and help protect the concrete from harmful chemicals, oil spills, salt, and stains.
| | | |
| --- | --- | --- |
|   Epoxy paint |  Floor tiles |  Floor mat |
But what is the best garage floor covering for you, and which garage floor covers are the least expansive and easiest to install?
I'll cover the different types of garage floor coverings, the advantages and disadvantages, to help you decide which garage cover is the best fit for your needs.
TYPES OF GARAGE FLOOR COVERINGS: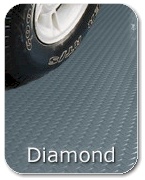 GARAGE FLOOR MATS: These garage covers are the easiest to install. They are very durable and easy to clean. The 100% poly-vinly ones are the highest quality.
Floor mats come in a variety of colors and designs. The widest ones are 10 feet wide and come in lengths of up to 60 feet long.
These are great for a quick, easy to install, highly durable garage floor cover. All things considered these are one of the lower priced covers for a garage floor.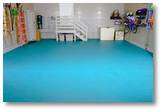 GARAGE FLOOR TILES: Floor tiles are relatively easy to install, come in many standard and custom colors, and offer multiple designs and patterns to pick from.
These interlocking tiles are made of high quality PVC, require little if any surface preparation, and can usually be installed in one day. The tiles are 18 - 20 inches square and 1/4 - 3/8 inches thick.
Floor tiles are great if you spend a lot of time in your garage standing. They act as a cushion under your feet allowing you to stand longer without getting tired. If you have a big garage this can be a pricey option, although they look fantastic.

GARAGE FLOOR EPOXY: Epoxy paint is an excellent garage floor covering. The 100% solids epoxies are very strong, durable, and long lasting.
Epoxy garage coverings can be highly decorative or just plain gray. Decorative chips can be broadcast into the epoxy for a granite or terazzo look.
Epoxies are more difficult to install, they require step by step instructions for mixing and painting on the surface. The EPOXY GARAGE FLOOR COATING SURFACE PREPARATION is very important for this garage floor cover to bond to the concrete and not peel off.
If you don't mind a little hard work this is a great concrete floor covering. When you consider the surface preparation, cost of material, and your labor, this is a fairly expansive floor covering. But if you deduct the cost of your labor, this becomes one of the lower priced garage coverings.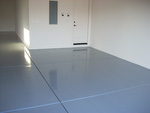 GARAGE FLOOR PROTECTOR: Polyaspartic polyureas are a very fast setting, very durable, and highly decorative, type of garage floor paint.
They make great garage floor covers if you want a permanent painted on type of garage covering. Like epoxies, they require the proper surface preparation but dry much faster. This fast drying technology allows you to drive on your floor the very next day.
Epoxies usually take 3 or 4 days to dry for vehicle traffic. Polyaspartics, once mixed, have a short pot life and must be painted on quickly. They are best left for a professional installer. If you want a painted on look, this is the best material for your garage floor cover.

GARAGE FLOOR SEALER: This is a very simple, clear or tinted, garage floor cover. It can be sprayed or rolled on. It's easy to install and doesn't require much surface preparation if you floor is in good shape.
Floor sealer is fairly inexpensive and drys in 24 hours. If you like the concrete floor look, this is a great choice. Click on CONCRETE STAIN for some other decorative ways to use color and garage floor sealer.
As you can see, there are plenty of options available for the best garage floor covering. It depends on your preferences, ability to install yourself, and budget.
There are multiple textures, patterns, and colors with all these garage floor covers. You just need to choose which one best suits your needs. They're all great choices.
For information on other garage floor related topics click on the links below.
HOW TO PAINT GARAGE FLOOR COATINGS
EPOXY GARAGE FLOOR COATING PREPARATION
GARAGE FLOOR PAINT BEST VS WORST
---
Return from Garage Floor Coverings to Garage Floor
Return from Garage Floor Coverings to Everything About Concrete Home Page