how to use self leveling concrete to
level, repair, and resurface concrete
November 3, 2023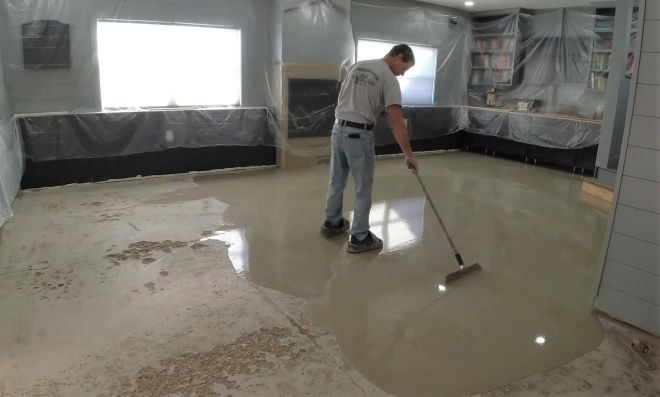 Self leveling concrete is used to resurface and level damaged or uneven concrete floors. 
Some self levelers, like the one I'm using here, can even be used for exterior concrete repairs and a finished wear surface for foot traffic or vehicles.
Then there's some that are only rated for interior use as an underlayment for other types of new flooring.
This guide will walk you through the basics on how to prep your concrete and how to mix and apply the self leveling concrete.
Watch me install self leveling concrete in the video at the bottom of this page!
recommended tools for installing self leveling concrete
To get the best results, you're going to need the right tools!
Below is a list of the tools I use and recommend when I use self levelers.
Here's a really good self leveling kit that has all the tools you'll need except the drill.
how to prep your concrete for a self leveling resurfacer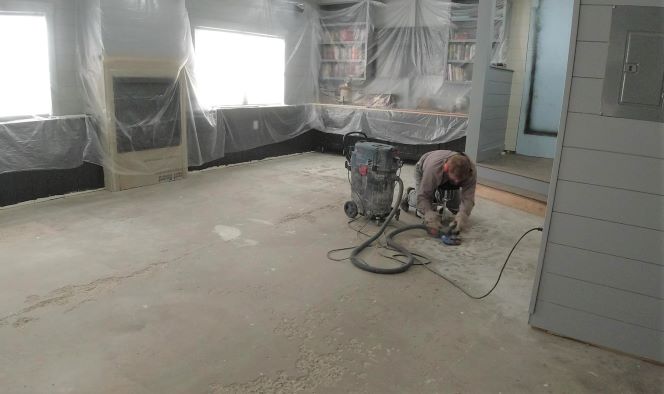 I'm using a 4.5" hand grinder to prep the concrete
In order to achieve the best results and adhesion, your concrete must be fully cured (at least 28 days old) and not have any moisture issues like efflorescence, hydrostatic pressure, or condensation.
The surface of the concrete has to be clean so no sealers, grease, oil, paint, adhesives, or any other material that will prevent adhesion.
It's not recommended to acid etch, use adhesive removers, or solvent cleaners to clean and prep the concrete.
Mechanically profiling the concrete either by grinding or shot-blasting is the best way to clean and prep the concrete for self leveling concrete. (You'll see us grinding in the video)
I personally grind all my concrete floors beforehand. I use either a 4 or 7 inch hand grinder with a diamond cup wheel and vacuum attachment or a big walk behind grinder for larger floors.
I find that grinding does both the cleaning and profiling at the same time. Afterwards, I vacuum the floor clean and do any repairs if needed.
How to handle joints and moving cracks
FOR EXTERIOR CONCRETE:
You've got to honor any joints or "active" cracks in exterior concrete. 
What does that mean? Well, what I do is go right over the joint or crack, BUT I always saw cut a new joint right over the old control joint or crack and fill it with flexible caulking.
If you don't re-cut over the existing joint or crack, even the slightest amount of movement will transfer up through the self leveler and cause a hairline crack.
PRO TIP: If the joint or crack is wider than 1/8", you can fill it with dry masonry sand before using the self leveler. This will keep the self leveler from disappearing down into the joint or crack.
FOR INTERIOR CONCRETE:
Sawed control joints have to be honored same as above and re-cut afterwards.
Most interior cracks are not moving if it's a heated space. In this case the crack can be repaired and gone over without re-sawing over the top of it.
repair any damaged concrete before using a self leveling resurfacer
If you've got any damaged deep areas, holes, or spalling in your concrete it's best to repair these before you resurface with a self leveling concrete.
I like to use Sakrete Top & Bond or Sakrete Pro-Mix All Purpose Cement Mix to do my concrete repairs.
The Top & Bond is for repairs from featheredge to 1/2 inch deep and the Pro-Mix will repair damaged concrete from featheredge to 4 inches deep.
Both of these are easy to mix and apply. Trowel smooth during use or grind smooth the next day and then you're ready for the self leveler.
do you need primer before self leveling concrete?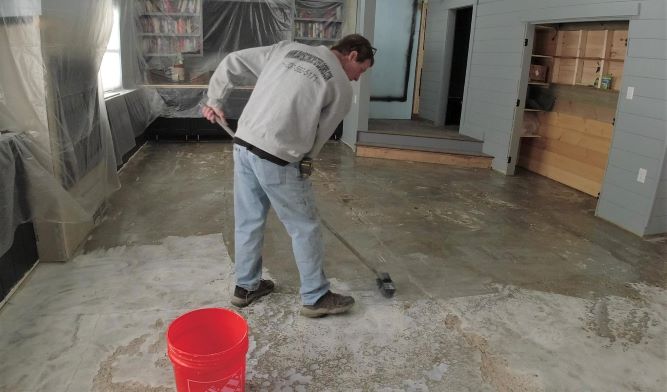 I'm applying a primer before using self leveling concrete
Yes, you need to apply a bonding primer before installing self leveling concrete. Each manufacturer has their own primer depending on what self leveler you're using.
The primer does a couple things:
It creates a really good bond between the self leveling concrete and your existing concrete.
It fills the capillaries in the existing concrete preventing outgassing bubbles in the self leveler.
You can apply the primer with a soft bristle brush. Either dip the brush in the primer (in a bucket) or dump the primer in small puddles over the floor and brush it around. Get it as even as possible.
For really porous concrete (like broom finished) you'll want to apply two coats of primer. Let the first coat dry then apply the second.
how to mix self leveling concrete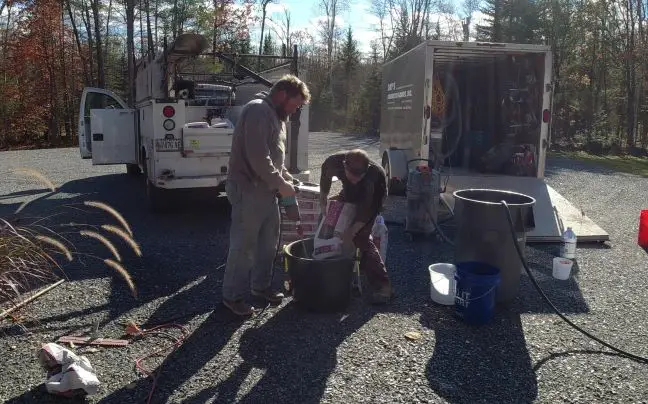 We're mixing 2 bags of self leveling concrete at a time
Each manufacturer has their own water requirements per bag of self leveler. Make sure you use the right amount of water and no more or you could end up with soft spots.
BASIC MIXING INSTRUCTIONS:
Add the measured amount of water to your mixing bucket first (usually 4.5 to 5 quarts per bag)
Next, dump in the bag of self leveler while mixing at full speed
Mix for at least 2 or 3 minutes (you may need to stop and scrape the inside of the bucket to remove any dry powder collecting on the edges) keep mixing until you don't see any lumps.
After it's thoroughly mixed (should look like pancake batter) dump it on the concrete where you're starting.
FOR LARGE AREAS:
You may want to mix 2 bags at a time to cover more area. You also may want a 2nd mixing bucket to speed up the process. You'll want at least 2 guys/gals mixing to maintain a wet edge and keep the process moving smoothly.
how to apply self leveling concrete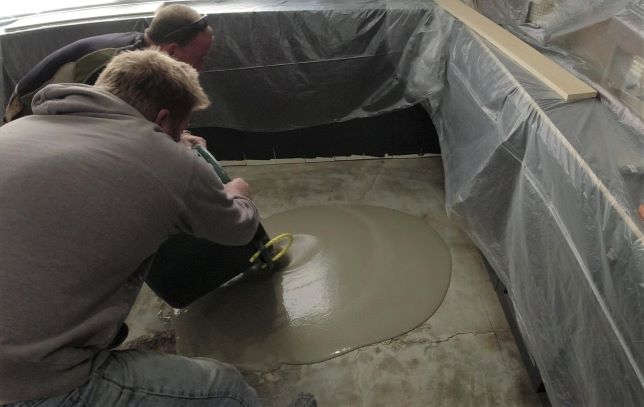 Dump the mixture out of the bucket onto your concrete.
Use the spreader to move the mixture around and get it to the proper thickness. 
It will mostly self level itself but it'll need a little help spreading it around.
Use the smoothing tool if needed to remove any lines left behind by the spreader.
MY EXPERIENCE: In the video, I didn't need a smoother. I just moved the self leveler around with a magic trowel (like a squeegee) and it leveled and smoothed out on its own. (like in the picture at the top of the page) and the picture below.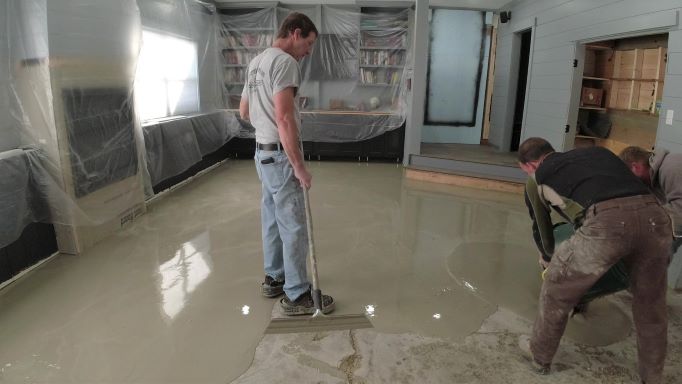 Work your way from one side of the job to the other by maintaining a wet edge. 
This self leveler from Sakrete had a working time of 15 - 20 minutes so doing this 480 sq. ft. room was really easy.
This floor was over an inch out of level and the self leveling concrete worked beautifully to level the floor. (The video shows you my method to level a very unlevel concrete floor)
how thick can you use self leveling concrete
Different manufactures have their own thickness specifications for installing self leveling concrete.
This one I'm using (Sakrete Fast Setting Self-Leveling Resurfacer) can be applied from 1/8" to 1 inch thick. 
Some can go thicker (up to 2") if you add pea stone to the mixture.
You can also go over it with more self leveling concrete after it cures if you have to. (just use a primer between layers)
how much does a 50lb bag of self leveler cover?
Generally speaking the coverage rate for a 50lb bag of self leveling concrete at 1/8" thick is 44 sq. ft.
At 1/4" thick the coverage rate is 22 sq. ft. 
At 3/8" thick the coverage rate is 16.5 sq. ft.
At 1/2" thick the coverage rate is 11 sq. ft.
At 1" thick the coverage rate is 5.5 sq. ft.
can you use self leveling concrete as the finished floor?
There are some self levelers that are rated for EXTERIOR use, like the one I'm using. These types of exterior use self levelers can also be used as a finished concrete floor.
Sakrete Fast Setting Self-Leveling Resurfacer can be used as the finished floor.
Ardex K-301 can also be used as the finished wear surface. 
You'll need to apply the proper concrete sealers to both products to protect the floor (and remember, the surface will be very smooth so it could be slippery when wet).
is self leveling concrete strong?
Sakrete's self leveling resurfacer is rated at 7000 psi. That's stronger than most concrete floors, driveways, and patios. So yes, this one is very strong.
Ardex K-301 is rated at 4300 psi, also stronger than most concrete is poured at (at least residential concrete)
Quikrete self leveling floor resurfacer is rated at 2000 psi and only to be used for interior floors as an underlayment. (just to level the floor then apply a finished floor over it) So not strong enough as a finished wear surface but good for just leveling a floor.
watch me install sakrete's self leveling concrete