Mike's Favorite Vibrating Concrete Screed
I've used a couple different vibrating concrete screeds over the years.
The one you see in the picture below is the Shockwave, it's made in the USA and sold by Marshalltown.
Compared to some of the earlier vibra-screeds I've used, this is the best one I've used by far.
What I like about it is it's very quiet, runs very smoothly without hardly any vibration, starts on the first pull, and is easy to operate.
The ON/OFF button is conveniently placed, the throttle is easily accessible, and the kick stand is very durable.
All in all, I feel this is the Cadillac of vibrating screeds.
Watch the video below to see how easy this screed is to operate.
The handle on this screed is rugged and makes it easy to pick up and move around. 
This vibra-screed with a 12' board weighs about 40 pounds.
In the picture below, we used my Shockwave Vibra-Screed to install this 30 yard concrete floor.
It was just me and my two guys installing this floor. Using the Shockwave made screeding it a breeze. It took us about 45 minutes to pour this floor.
This screed feels lghter (it's about 40 lbs) than the Vibra-Strike and Magic Screed. (others I have used)
In my opinion, being lighter and more balanced makes it easier to set the tool down on fresh concrete and start screeding.
I also like that you can adjust the handle grips to an angle that's comfortable to you. If you use these a lot, this is a very important feature.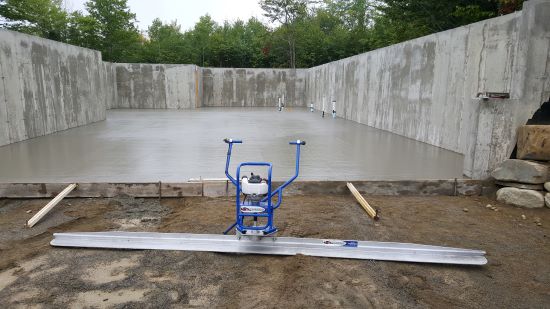 This is my Shockwave Vibra-Screed
The Shockwave has all the same features as the Magic Screed. It's lightweight, has adjustable handle grips, got a Honda motor, and you can get different size blades for it.
I highly recommend the Shockwave vibra screed. It's what I use now. 
You can order it right from Marshalltown's website and get it shipped FREE to your home or business.
If you use my discount code EAC when you check out Marshalltown will give you an extra 10% off the price.
Buy the SHOCKWAVE VIBRATORY SCREED
Honestly, what I feel is most important when choosing a vibrating screed is reliability. This thing needs to start with one pull of the cord. (you get that with a Honda motor)
It also needs to be lightweight, easy to pick up and set down, have a smooth throttle control, and be easy to clean.
You get all these things with the Shockwave.
If you want to see us in action, check out the video I made where I talk about how to get a flat (level) floor using a vibrating power screed.
This is one of my older videos where I'm using the vibra-strike II.
This screed got the job done but was heavier, and vibrated more than the shockwave.
Also, notice the straight handles, you couldn't adjust the handle grips for taller or shorter operators.
If you would like to see more of my videos you can check out my channel HERE.
Back to my recommended products page
---
If you liked this, please share.  Thanks!