Concrete Countertop Mix

November 3, 2023

Concrete countertop mix is available from many different manufactures. The countertop mix comes in ready to use bags where all the dry materials have been combined for ease of use, all you have to do is add the water.
Which one to use, depends on the look and design of the concrete countertop you're trying to build.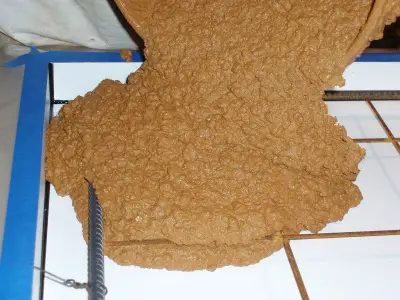 This is a colored concrete countertop mixture

Many concrete countertop experts have experimented with their own mix designs throughout the years, perfecting them, marketing them, and now selling them for everyone to use. These field proven mixes are the best way for a diy concrete countertop to be made.
Just add water mix for concrete countertops

Some of the more popular brands are from Cheng, Buddy Rhodes, eNcounter, and even Quikrete. You can buy these online or from a store that specializes in concrete supplies. Non air-entrained Quikrete 5000 psi mix can be purchased at Home Depot or Lowes.
What's important about pre-mixed bags? They are designed to use very little water. That translates into a concrete mixture that will have very little shrinkage when it is drying. Shrinkage cracks in a countertop are impossible to hide and very unappealing to look at.
Some pre-mixed concrete counter top mixtures are also designed for very high strengths, as high as 8000 psi. An 8000 psi countertop mix will polish very nicely because it is so hard and dense.
If you want to experiment with your own countertop mixture you can try some gray or white portland cement with some fine sand, add some 3/8 inch stone for extra strength or if you want to expose the aggregate when polishing the surface.
The concrete mixing ratio would be 3 parts sand, 2 parts aggregate, and 2 parts cement. Keep the mixture as dry as possible, kind of like clay, when you mix the dry ingredients with water.
Here's a list of ingredients for a concrete countertop mix like the pros use.

The ease of use, and proven quality, of the pre-mixed countertop mix makes the decision of which to use an easy one for most.

Click on the links below for more information:
HOW TO MAKE CONCRETE_COUNTERTOPS
CONCRETE_COUNTERTOP FACTS
CONCRETE COUNTERTOP REINFORCEMENT
FINISHING CONCRETE_COUNTERTOPS
PRECAST CONCRETE_COUNTERTOPS
---
Go from Concrete Countertop Mix to Concrete Countertops