Precast Concrete Countertops
November 3, 2023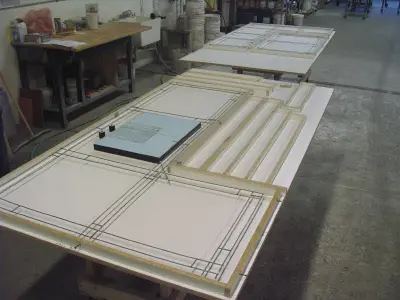 Precast concrete countertops made in your shop or garage offer many advantages vs poured in place concrete countertops made at the job-site or in your kitchen.
There are three basic methods of making a precast concrete countertop: wet cast, hand packed and GFRC.
One of the main advantages of precasting a concrete countertop in your shop is you control the environment. You don't have to worry about other people damaging the countertop before it is sealed.
Spilling coffee or dropping a tool and chipping the surface could leave a mark that's still visible even after it has been repaired.
Other advantages of precast counteretops:
As far as finishes to the surface, precast countertops are more versatile.
Wet polishing the surface to a fine, smooth finish or exposing the aggregate can be messy, making cleaning up easier.
Embedding decorative aggregate or colored glass in the surface, revealed by wet grinding, is easier.
There is less danger of damaging existing cabinetry or finished flooring by concrete spillage.
A veined look, perfected by Buddy Rhodes, is possible using the hand packed method.
Cast in place sinks are easily done, especially using the hand packed method.
If you're a contractor, many projects can be done at the same time, you don't have to move from jobsite to jobsite.
It's easier to form overhangs and custom designed shapes
Curing the concrete, a very important step, can be closely monitored.
You can control the temperature, humidity and dust in the air.
As you can see, there are many advantages to precasting concrete countertops. Being able to control all these variables in you shop is much easier and very important.
Producing a high quality concrete countertop requires the forming, pouring, finishing and curing to all go smoothly with no accidents, not easily done on a jobsite where other trades people are working.
Like most anything, there are a few disadvantages to precast concrete countertops:
Large pieces are heavy to lift, transport and install.
Odd angles and curves to kitchen walls can be difficult to template.
You need a shop or garage to make the countertop.
Click on the links below for more information:
HOW TO MAKE CONCRETE_COUNTERTOPS
CONCRETE_COUNTERTOP FACTS
CONCRETE_COUNTERTOP REINFORCEMENT
FINISHING CONCRETE_COUNTERTOPS
POURED IN PLACE CONCRETE_COUNTERTOPS


---
Return from Precast Concrete Countertops to Concrete Countertops
Return from Precast Concrete Countertops to Everything About Concrete Home Page